Finance is forever changing and advancements in technology have led to a new wave of app-only banks being introduced into the market.
These snazzy, functional banks have had their work cut out tackling their more established, older brothers.
Perhaps none have been more successful in taking on the 'big 4' than Monzo.
But is it so good that it's worth switching over to this company?
All shall be answered in this full comprehensive Monzo review.
What Is Monzo?
When it comes to the finance industry, the origins of many companies are somewhat boring and uninspiring.
The same can't be said for the new kid on the block, Monzo or as it was once known, Mondo.
Its 4 founders were prior workers at Starling Bank, arguably Monzo's biggest competitor today in the 'app only' sector.
Funding was secured through a crowdfunding session with the platform crowdcube, which would go on to break a few records.
At the time, Monzo would become the fastest crowd-funded project in history, raising no less than 1 million pounds in 96 seconds.
Monzo originally started as a prepaid debit card and a mobile app.
However, in April of 2017, Monzo's banking licensing would be granted, meaning you could open a deposit account with them.
Over the course of 3 months, Monzo would report over 250 million pounds was spent through their prepaid cards.
Extremely impressive for a startup, so much so that it would win the 'best start-up tech company to work for' award from Linkedin Uk (2018).
Around the same time, Monzo would look to secure more funds from Crowdcube, the platform that had helped get them going.
Once again they would break another record for the largest ever crowdfunding round for a fintech company ever, raising 20 million.
From this point onward Monzo has been consistently evolving to stay ahead of its competitors.
Here's a brief look at what they have to offer via one of their promotional videos.
(More on features later on in this Monzo review)
In terms of the companies structure, Monzo brands itself as a clear and transparent bank for everyone by everyone.
So far it's proved effective, amassing a community of over 4 million people.
Monzo even encourages users to give suggestions for features and to conduct app testing for them.
It sounds like the ideal bank so far doesn't it?
How Does Monzo Work?
Monzo has cut ties with the traditional banking system, in terms of possessing psychical branches.
What this means is it's essentially an online bank but shares all the necessary qualities of the 'big banks'.
Monzo currently offers business accounts, joint bank accounts and of course, personal bank accounts.
Just like better-known banks, you can set up direct debits, do contactless payments, withdraw and transfer money.
Much like Monese and Revolut, Monzo differentiates itself from traditional banks by allowing users to manage their money.
As a result, this gives you more freedom and control over your finances.
Monzo's Sign Up Process
Next up in this Monzo review, we are going to take a quick look at the signup process.
To be eligible for a Monzo card, you need to fulfil these two factors:
Must be older than 16
Need to live in the Uk
You'll also need a form of identification at hand, Monzo excepts:
Passport
Driving licence
National ID card
Firearm or shotgun certificate
Biometric residency permit
Electrical identity card
(This example will be done using the Appstore)
So firstly you're going to need to head over to the Appstore or Playstore and download the Monzo app.
After it's downloaded, click the icon and create an account.
Fill out your email address.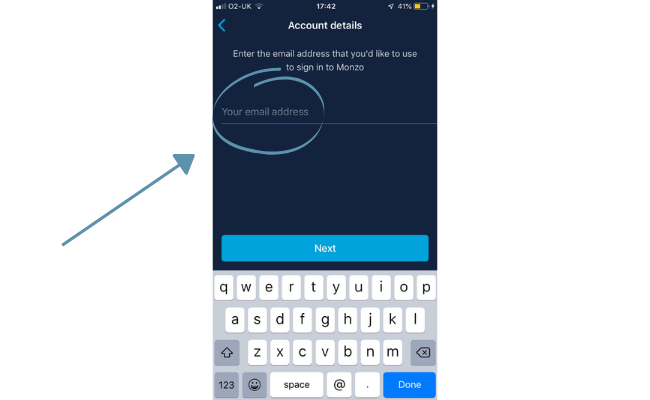 After the animation has finished, open up the mail app (Includes Gmail).
Once you open the email and click the link, you'll be taken back to the Monzo app.
From here, you'll be asked to fill out some personal details, including your phone number and postcode.
After you have completed this process, you'll be notified that your card is being sent.
According to Monzo, 99% of users get their card within 4 days.
When you receive your card, you can activate it via the app.
Monzo's Features
Perhaps the most interesting part of this Monzo review is the features the company provides.
To set yourself apart from the competition in the financial industry you need to go above and beyond to attract users.
Monzo has certainly done that.
Let's take a look at each one in a bit more detail.
Spending Notifications
You can receive real-time information regarding your spending.
This is so you can see what's leaving your account instantly.
A handy feature to say the least.
Freeze Your Card
If ever you lose your card or have misplaced it, you can simply log into the app and freeze your card.
All you need to do is press the freeze icon on the homepage.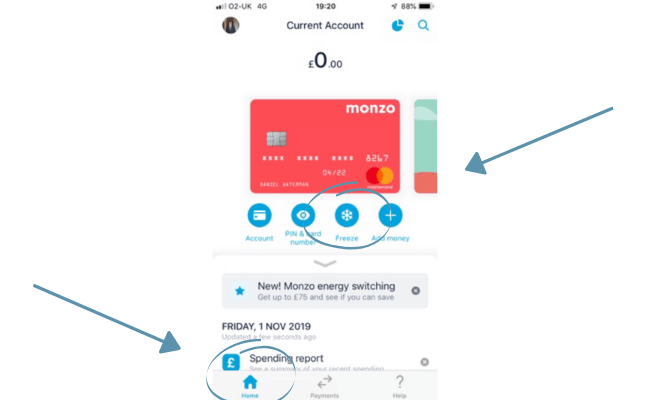 As you can see below when pressed a frost animation will appear over your card which is pretty cool (pun not intended).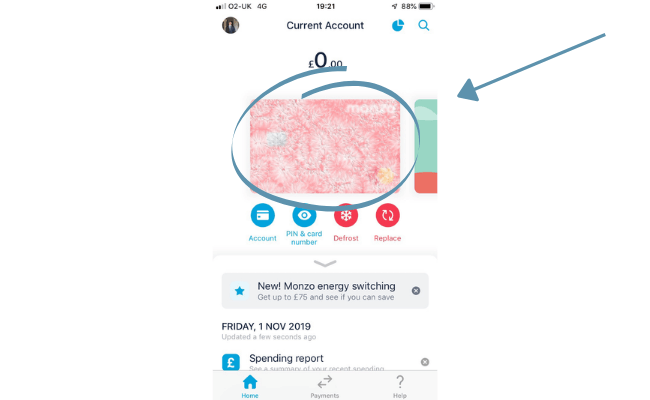 (Note: This will also deactivate your contactless card via your IWallet if you have an apple device)
This feature saves potentially lengthy and boring conversations with your provider to cancel or freeze your card.
Monzo Overseas
Even if you don't use Monzo as your primary current account, it could be worth having a card for this feature alone.
I personally use my Monzo card for my holidays, here's why:
Free overseas transaction fees.
Free for your first withdrawal (refreshed every 30 days) within European Economic Area up to £200.
These are handy features to have, particularly if you travel fairly frequently.
As far as I'm aware no bank offers these sorts of overseas perks as standard.
Correct me if I'm wrong in the comments below.
Get Paid Early
To understand how this feature works, you need to understand what the bank automated clearing system (BACS) is.
In simple terms, BACS is an electronic system that makes payments directly from one bank account to another.
This system is frequently used by organisations/employers but takes up to 3 working days to clear (reach your account).
Monzo can advance your wage through this system as it's almost certain that the money is going to arrive from your employer.
That means you don't have to wait for the 'clearing period'.
By doing this, Monzo says you have 'more time with your money', to do what you like with it.
To use this feature you need to fulfil these two elements:
Be a Monzo customer
Have your wage paid directly into your Monzo account via BACS
Salary Sorter
With salary sorter, you can switch your current bank account to make Monzo your primary.
By channelling your salary into your Monzo account, you can place specific amounts of money into spending, bills or savings.
To do this, just press the chart in the top right corner and scroll down to 'add salary'.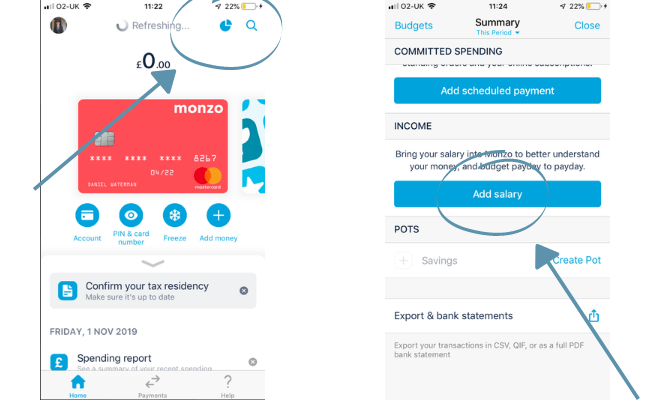 Choose how you would like to add your salary to Monzo.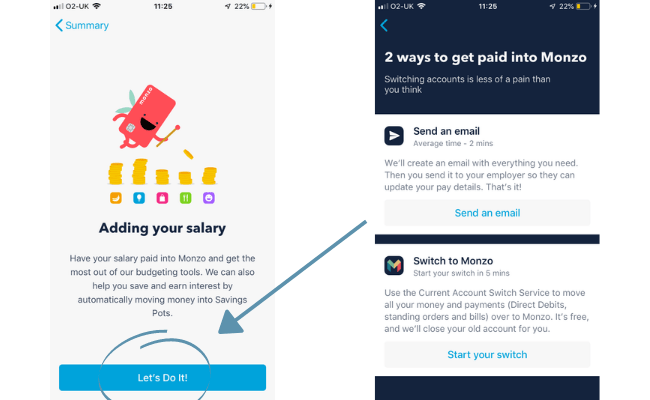 If you choose to switch your bank, there are a few things you need to know first:
All your direct debits, standing orders and bills will be transferred to Monzo
Your old account will be closed
You'll need your sort code, account number and bank card connected to that account at hand
Joint accounts and savings accounts can't be transferred
Overdrafts aren't transferred
Transfers take around 7 days
If you're satisfied with all of these points, you can switch to Monzo.
Pots
This ties in partly with the salary sorter function.
Monzo's pots allow you to separate your money further into one of the following:
Savings pot– store money away for multiple things
Bills pot- manage standing orders and your direct debits
Spending pot- Categorise what you're spending your money on
By having more control over the finer details, Monzo hopes you'll be more attune with your finances.
Believe it or not, many traditional banks do not have such a feature.
To create a pot just click the chart in the top right-hand corner and scroll down to pots.

You'll then be greeted with these slides.

You can then choose the pot you would and can start saving from there.
Just be aware that you can't touch that money until the set limit is reached.
It will also not count to your overall balance so if you go over your current balance, your overdraft will be triggered.
Budgets
Budgets are an essential part of everyone who has a sensible relationship with money.
Whether we like budgeting or not, it's useful and Monzo thinks so too because they have a whole section dedicated to it.
This is just another step in having more control over your finances.
To use the budgets feature, you'd click the chart in the top right-hand corner.

You can then set a budget for each category listed below.

Once you're happy with the budgets that you have set, you can press done.
They will then appear in the summary section.

Spending Reports
Spending reports wraps up what goes in, out and then the distribution of your money among pots for the month.
In a clean and clear interface, you can have a summary of what you've been up to with you Monzo account.
As you can imagine, this is very helpful in bringing more structure to your finances.
Simply click 'spending reports' located on the home page.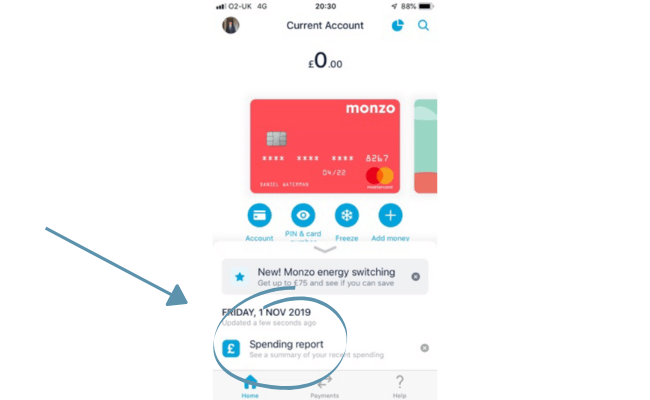 You'll be taken to this screen.
From here you can see the summary in further detail by clicking 'see full summary'.
After analysing the figures you can act accordingly to your goals/targets.
Chat Support
Within the Monzo app, there is a whole dedicated section to finding help.
They have a list of scenarios for you to choose from.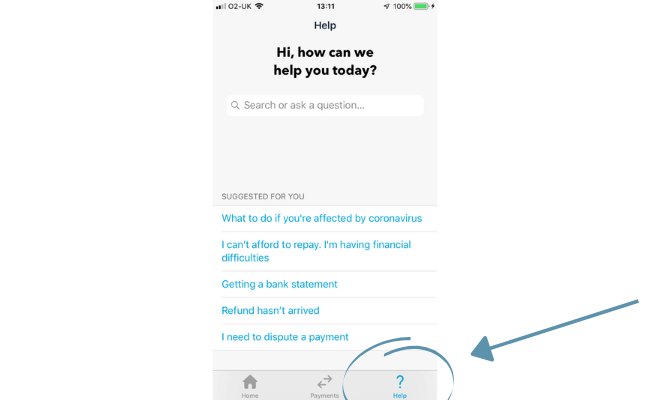 Alternatively, if none of them fit your current situation you can type your problem in the search bar.
This is handy to have easy access to customer service if you encounter a problem and in most cases can be resolved quickly.
(Note: If your issue is not provided, you may have to leave the app and contact them via phone)
Transaction History
Although this has become an almost compulsory feature in today's day and age, it's still important to mention.
You can find a clear breakdown of your transaction history on the homepage, as shown below.
Further information on a transaction can be accessed by clicking it.
Is Monzo Safe?
Monzo is fully regulated by the FCA, meaning it has the same securities levels as most other banks.
The goals of the FCA are:
To safeguard customers
Enhance the integrity of the UK financial system
Promote healthy competition to improve services for the public
If Monzo for some reason goes bankrupt, any money you have in your account (up to 85,000) is protected by the financial services compensation scheme.
Not only that but joint accounts are protected for up to 170,000 giving you security if you choose to open up an account.
It's safe to say that Monzo is secure and protected.
FAQS
Is Monzo Closing Down?
Although Monzo has seen a decrease in valuation from £2 billion to around £1.25 billion as a result of the pandemic, they have no intention of closing.
Is Monzo A Credit Card?
No, Monzo is a debit card.
Who Owns Monzo?
Monzo's ownership structure is not in the public domain as it's a private company.
Can You Use Monzo Abroad?
Yes, you can use Monzo abroad.
How Do You Get A Monzo Card?
You can get a Monzo card by downloading the app- a step by step guide can be found above.
How Do You activate a Monzo Card?
Activating your Monzo card is done via the app.
A full breakdown of the process can be found above.
Monzo Reviews
So far in this Monzo review, I have only included my personal experience with the bank.
To provide a more well-rounded and complete Monzo review, I like to include customers' opinions/experiences.
According to Trustpilot, Monzo has an overall rating of excellent from over 22,000 reviews.
80% of the Monzo review rated the company 5 stars whilst 11% rated them at 1.
Positive Monzo review included things like:
Straightforward and insightful
Great banking experience
Excellent service
Negative Monzo reviews mention things such as:
Offers nothing for loyalty
Account closures
Don't believe the hype
Pros Of Monzo
Customer support
Clear interface
Lots of great features
Safe and secure
Always evolving/innovating
Strong branding/marketing
Cons Of Monzo
Psychical branches would be useful for some customers
Needs more refinement options when checking transaction history
Account freezing and closures
Users have had issues regarding fraudulent claims
Final Thoughts On This Monzo Review
Whether or not you open an account with Monzo seems to come down to this:
Are you happy to take a risk, albeit small, that you could encounter difficulties regarding account closure or freezing?
If you are, then 9/10 you are going to enjoy the features and overall style of the 'new school' bank that is Monzo.
However, a lot of people, particularly when it comes to finances (rightly so), are not happy to take this risk no matter how small.
It's a shame to see that a great brand can be tarnished by what seems to be a handful of issues.
That is, unfortunately, the nature of the market Monzo is in.
I hope you found this Monzo review useful, I always try to be as transparent and unbiased as possible to bring you the best reviews.
I have done many similar software review posts on Monzo's competitors such as:
As always be sure to leave a comment if you have any questions or if you think anything was missing from this Monzo review.