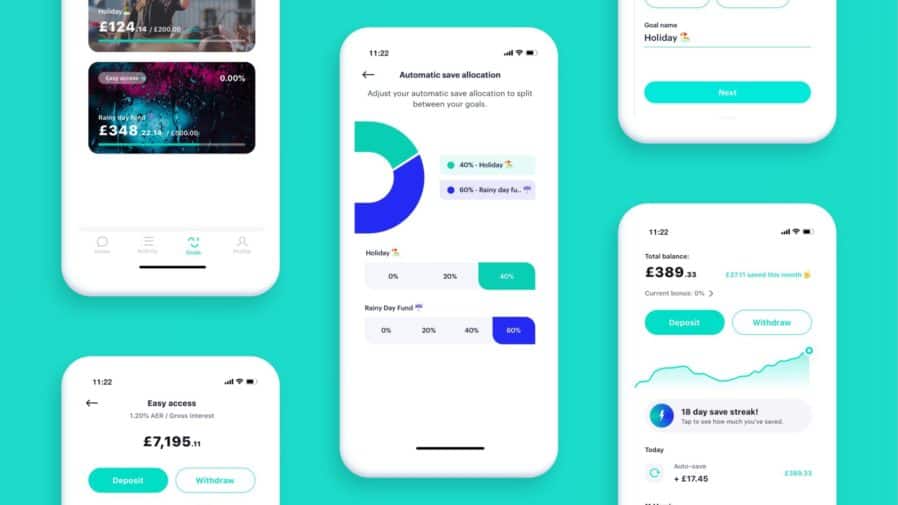 Saving money can often be difficult and in some cases, a lengthy process.
Particularly when that voice emerges from the back of your head and convinces you to buy something you don't need.
But what if I told you there is an app out there that automates your savings effortlessly, emotionlessly and does so in a data-driven fashion?
You would think I was smoking something until I told you it's made possible by utilising artificial intelligence (AI).
Whatever your opinions may be on it, it turns out it's really quite handy when it comes to helping you with your finances- as you're about to find out in this Chip review.
What Is Chip?
Chip, as I alluded to in the introduction, is a money management app.
It was founded in 2016 with the goal of automating and ultimately simplifying money management, particularly when it comes to saving.
Much like Plum, Chip utilises AI to help you save and manage your money.
By leaving your finances in the hands of AI, you also remove the emotional component of money management.
No need for that persuasive voice in your head now!
How Does Chip Work?
Chip works via an app in which users who sign up, can set preferences that influence their algorithm.
It then merges this information, with data from the bank accounts that you link to chip to create a saving plan for your situation.
What I mean by this is AI works out what is the optimal amount you can put aside safely without impacting your day-to-day life.
This is the core component of Chip and why it can be so helpful for a lot of people.
It sounds like a great financial partner so far doesn't it?
Chip's Features
Perhaps the most interesting part of this Chip review is the features the app provides.
When you are in a competitive space like personal finance, you need to separate yourself from the rest.
You'll soon see for yourself that Chip has given it a good go.
Automatic Saving
The foundation of Chip, as we discussed earlier on, is automatic saving.
It's not hard to see that having a tailor-made, automated saving plan helps you save.
The rate at which you save is entirely up to you and can be controlled via the savings settings.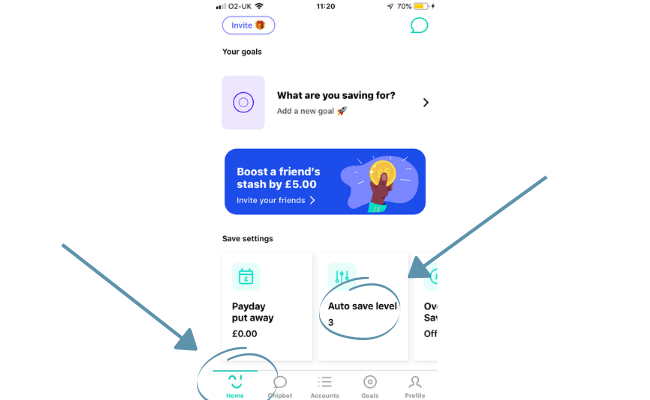 Click on 'autosave level' and from here you can choose the number that best suits you at that current moment in time.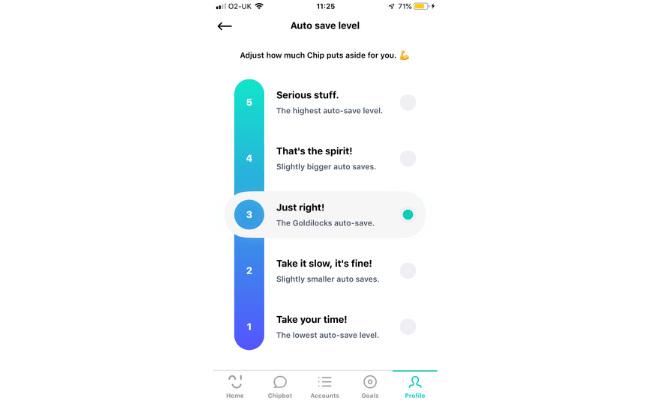 Payday
You can set up a date and amount in which Chip can automatically move money into your account.
Simply head over to the saving settings and click 'payday put away'.
From here you can input your payday whether that be monthly or weekly and set the amount.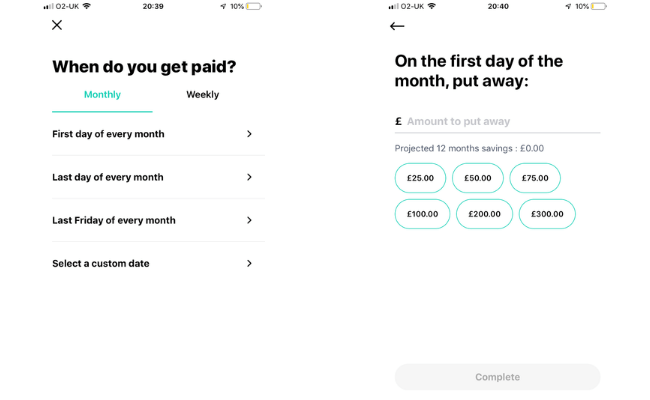 After you press 'complete' guess what?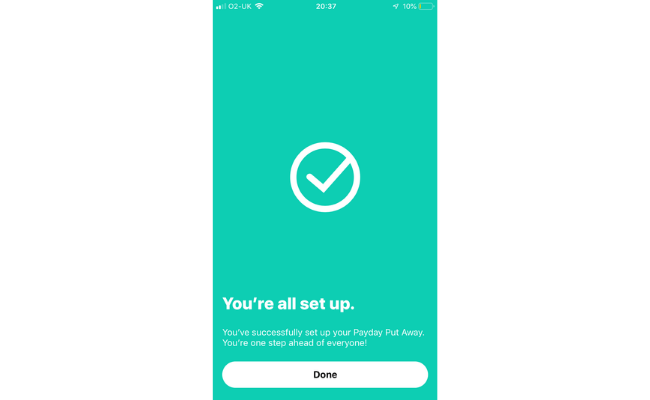 Overdraft
If you ever need to save up to pay your overdraft, you can do it with Chip.
Just set a limit you are comfortable with Chip moving for you and they'll store it till you need it.
This feature helps people pay off their overdraft in one payment.
To activate this, just go down to the saving setting and click 'overdraft saves'.
Move the slider, set the amount and you'll now have overdraft saving active.
Bank Balance
chip gives you more control over your saving by utilising the 'minimum bank balance' feature.
if you don't want to see your account go below a certain figure, just input an amount and Chip will disable saving.
This will only happen if you go below the balance you set, otherwise, it will continue to automatically save.
To turn this feature on, move down to saving settings, press 'min. bank balance' and set an amount.

Skip Auto
If for whatever reason you want to pause automatic saving, Chip allows you to do this quickly and easily.
Set the period of time for which you would like Chip to pause saving, whether that be a week, month or other.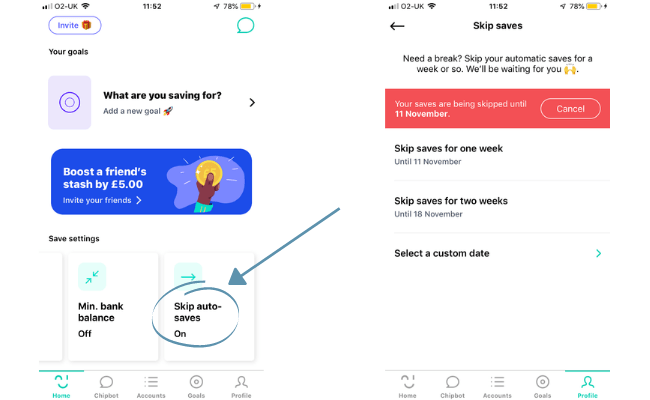 After confirming, you won't have to worry about money being taken from your account in a period where you may need it all.
Savings Goals
Setting yourself savings goals for events such as holidays or even rainy days is a great way to reward yourself.
Not only are you rewarding yourself but you're actually incentivising saving, which can only be a good thing!
Similar to Starling Bank's feature 'spaces', users can set a target sum to achieve by a certain date.
To do so, move along to the goals section, click 'create a goal' and name it.
Choose an amount and you'll then be greeted with a notification to say your goal was created.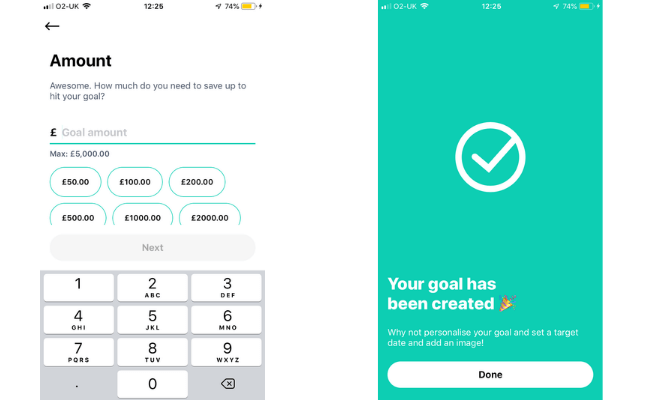 There are further customisation options such as a display image for your goal and automatic saving percentage.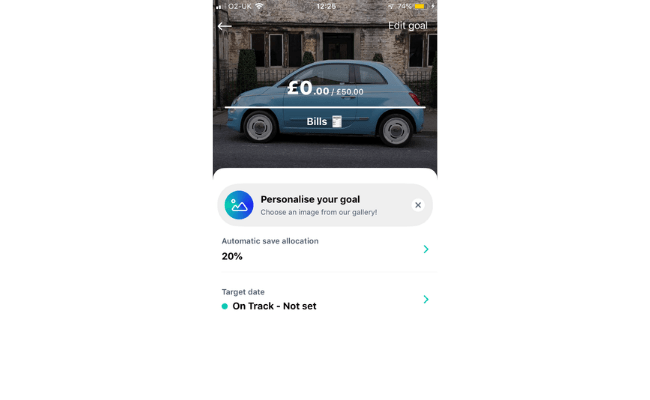 Monthly Breakdown
It's always useful to know the ins and outgoings of your account, a sentiment obviously shared by Chip too.
Your money will fall into one of these 4 categories:
Auto-saves
Deposits
Withdrawn
Returns
The report can be accessed by clicking the green arrow underneath your balance.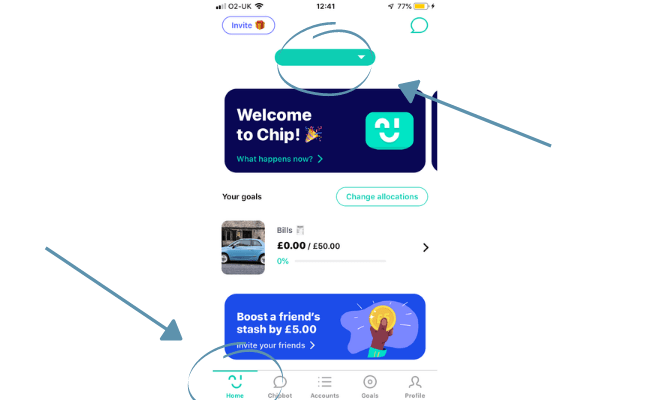 You'll then see a clear, visual display of what you've been doing with your money (including prior months).
Referral Program
A great way to promote your company is to have a referral program where users can share their links with friends and family to join.
If someone successfully signs up through your link, they receive a reward.
In the case of Chip's referral program, everyone that signs up via a referral link will receive £5 in their chip account.
To refer someone, click the invite button in the top left-hand corner of the home screen.
Open your contact book and you can start referring from there!
Is Chip Safe?
Chip is now regulated by the FCA as an authorized payment institution.
This news has come fairly recently (march) and is a big boost for the company, opening many doors for them.
The goals of the FCA are:
To safeguard customers
Enhance the integrity of the Uk financial system
Promote healthy competition to improve public service
This means your money is protected by a series of safeguards.
Chip is also proud of its 128-bit encryption software that protects data.
It should be noted that Chip is not protected by The Financial Services Compensation Scheme (FSCS).
The FSCS reimburse money to customers in the event of a company going bust but does not protect funds classed as 'E-money'.
Chip uses the E-money firm Prepaid Financial Services, which creates what's known as a 'ring-fenced Barclays bank account.
(Note: Ring fenced refers to a type of account in which the funds can not be used for trading activities)
So in short, your money is safe and this recent FCA approval means that the next milestone is an FSCS-protected savings account via a partner bank.
Cost
It's 100% free to get started with Chip and there is no charge to open an account.
There is, however, a small fee if you utilize the AI.
If you automatically save over £100 in a 28-day period, Chip charge £1 (likely to increase to £1.50 soon).
Anything below £100 is absolutely free and manual savings can be activated with no charge at all if you were deterred by the small fee.
Pricing plans, according to an article written by Chip, will hopefully be launched in the coming months.
The company wants to introduce a 3-tier system i.e free tier, a standard tier, and a premium tier called 'ChipX'.
(Note: When this system comes to fruition, I'll be sure to update this portion of the Chip review and give my take on it)
Chip Reviews
According to Trustpilot, the company has an overall rating of 3.9 from over 1000 Chip reviews (at the time of editing).
70% rate the company as excellent while 19% rate them as bad.
Here's a summary of the positive chip reviews:
It actually helps you to save
Easy to use
Innovative idea
Negative Chip review tend to talk about these few things:
Withdrawal times
Issues surrounding customer service
So all in all when looking at the Chip reviews collectively, the response to the app is largely a positive one.
Chip FAQS
Does Chip Charge A Fee?
'ChipLite' is free however the other two account types require a 28-day cycle subscription fee (1st month free).
Aside from subscription fees, if you choose to invest with Chip they will charge you a platform fee in accordance with your membership plan.
You can find out more about Chip's fees here.
Which Is Better Chip Or Plum?
Chip and Plum offer a very similar set of services overall both in terms of features and subscription models.
Each company has its appeals over one another but the general consensus is you get more from Plum.
Is Chip A Good Investment?
Chip has a nice array of investment funds available for you to choose from depending on your risk tolerance.
So if you are looking for a 'hands-off' approach to investing for a respectable management fee, Chip could be a good option for you.
Just remember that whenever you invest, your capital is at risk.
Is The Chip App Safe?
All funds in your Chip account are protected by the FSCS up to £85,000.
The Chip app also uses 128-bit encryption to protect your data.
How Do I Stop Chip Taking My Money?
If you are a part of a paid monthly subscription plan with Chip, simply downgrade to ChipLite- it's 100% free.
Conclusion Of This Chip Review
Now this Chip review is drawing to a close, here's my take on the app taking into account my experience as well as others.
The app was created with its main purpose to help people save.
The overwhelming majority of users, including myself, think it does that.
By automating the process with AI, it allows people to get on with their lives whilst Chip is saving for them in the background.
So in that respect, yes the company is a success and has achieved what it set out to do.
However, money management is a competitive space and there are a wide arrange of other apps and even banks that are great in this field.
Chip, in comparison to the competition, could be considered rather simple because it remains true to saving.
Revolut, for example, has many saving capabilities (budgeting, savings goals) but also has the functionality of a bank, allowing investing etc.
So if you are happy with an app that JUST helps you save, then Chip is a great option.
If you are looking for a bit more than that, there are plenty more options out there, many of which I have reviewed.
Related Articles:
If you enjoyed this Chip review, don't forget to leave a comment and check out The Money equation on our social media pages and read more of our reviews.