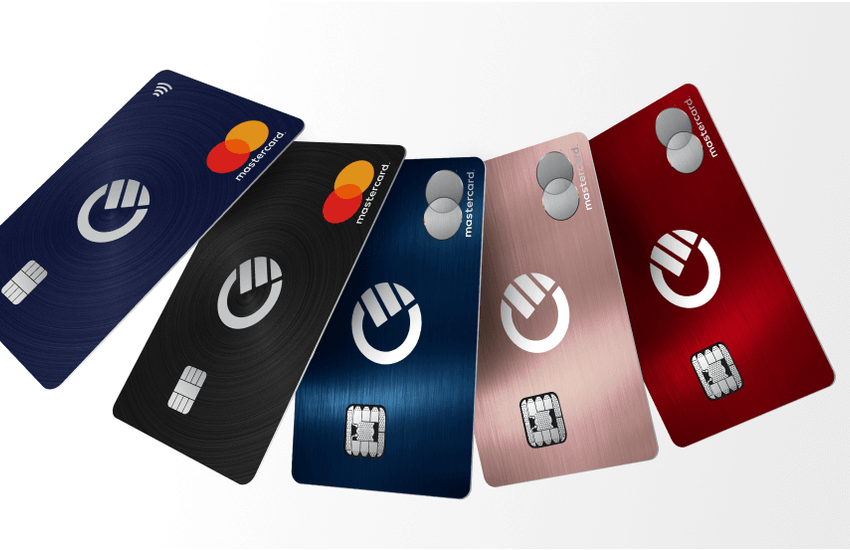 When you review as many cards as I have, over time the ever-growing mountain of plastic begins to bother you.
Now although it may not be for the same reasons, I'm sure I'm not alone in having multiple cards.
When you already have a few, it's not hard to see yourself outgrowing your wallet or purse down the line.
Thankfully, there is one company trying to tackle this problem known as Curve.
But just how effective is Curve at tackling the issue?
The answer to this question and more can be found in this Curve review I've created for you today.
So without any further ado, let's get started.
What Is a Curve Card?
Curve is a MasterCard that allows you to connect all of your other existing cards, meaning you can operate them all from one place.
The card was created by the serial entrepreneur, Shachar Bialick in 2015.
His main aim was to create a simpler and smarter way to manage your financial life.
Curve would release its beta version in 2016 and would make improvements until its finalised version in 2018.
It was introduced in Ireland and then released in the Uk shortly after.
How Does A Curve Card Work?
Curve works via an app, much like many of the 'new school' banks/cards that I've reviewed in a past.
That means the majority of actions can be done at the touch of a button, which is very handy.
Curve doesn't provide the typical features of any other bank/card itself because it doesn't need to.
Functions such as direct debits and standing orders can be all set up through your linked bank accounts.
Features
(Note: All of these features come as standard and don't require an upgraded plan)
Next up is perhaps the most interesting portion of this Curve review.
'New school' companies such as Curve, aside from its primary feature of connecting cards, provide many tools to compete against other cards.
Such tools give you more control over your finances in general, helping develop your money management skills amongst other things.
Let's take a look at each one in more detail next in this Curve review and you'll understand what I mean.
Overseas
Curve is great overseas because not only are there no transaction fees for the card, but for any other card you use through Curve.
That even applies to the card that would otherwise normally have a fee, how cool is that?
It's fair to say that you'll have no troubles with this card overseas and should be taken advantage of when on holiday.
Instant Notifications
You can get real-time notifications on your phone whenever you use your Curve card.
As you can imagine this is handy for a whole host of reasons including money management and identifying fraud.
It's a simple feature but a useful one that even traditional banks haven't adopted.
Curve Send
Curve send lets you send money from any of your payment cards on your account to your friends and family.
You can send up to £500 a day in any currency and Curve promises to take care of any FX charges that you may incur (Blue card limited to £500).
It should be noted however that money can only be sent to another Curve cardholder.
To use Curve send all you need to do is head over to the 'send' section on the dashboard.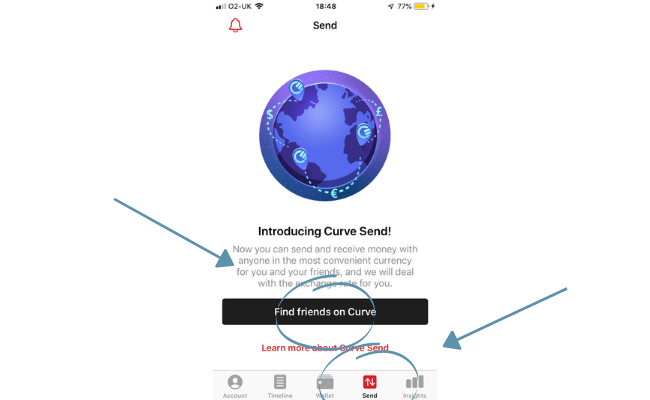 Choose a contact and a title (I.e electricity bill).
Then you can enter the amount, choose the card and send it, just like that!
Cashback
With Curve you're able to earn 1% cashback from a whole host of retailers including Tesco, ASOS and Uber.
Curve promises to give you 1% cashback on top of the card you're using through them too!
It should be noted that restrictions do apply and you can find more information on this under the section 'Card Versions'.
Loyalty Cards
Just when you thought curve couldn't get any more in-house, you have the option to link your loyalty cards.
When you do so you'll be able to use them at any time just like your other cards.
Curve can currently integrate cards from the likes Tesco, Costa, Boots and much more.
To do this, switch over to the loyalty option on the main screen and add a card of your choice.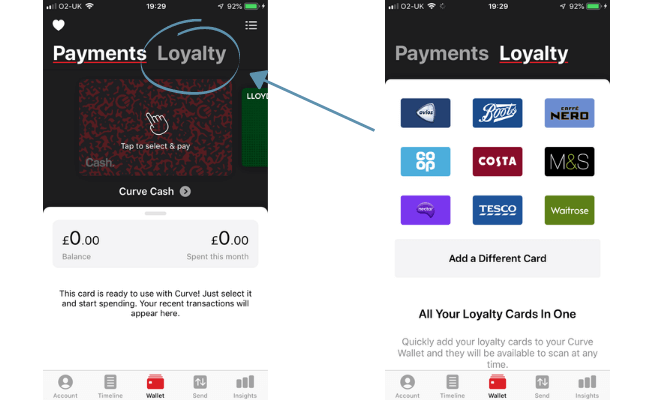 Lock You Card
If you ever lose your card or misplace it, you can log into the app and lock your card.
To do this all you need to do is move along to the 'account' section and press the slider.
This feature potentially saves lengthy and boring phone conversations with your card provider.
Back In Time
Having many linked cards presents a potential problem, paying with the wrong card.
Going 'back in time' on the Curve app allows you to switch cards you purchased something on up to 2 weeks (£1000 and below).
Now, this is a feature that as far as I'm aware is completely exclusive to Curve.
A very innovative solution to a genuine problem.
Categorisation
Much like other challenger cards, Curve offers a categorisation option for your money.
This gives you more freedom with your finances and promotes better management overall.
Unlike challenger banks such as Monzo who use a pot system, Curve categorises your money using different colours.
Pay Bills
You can pay Uk taxes and/or credit card bills with another card when you turn on Curve fronted.
There is a 1.5% fee per transaction for Blue and black Curve cardholders (more on this later) but only applies when you use curve fronted.
To turn it on, head over to 'profile'.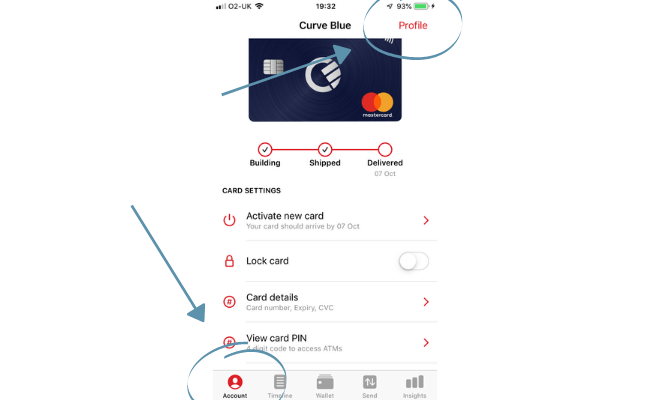 Scroll down and you'll find 'Curve fronted'.
Spending Timeline
Your spending timeline on the curve interface documents what goes in and out of your account each day.
In a clean and clear interface, you can see what you've been up to with your Curve account.
Contactless Functionality
In today's market, this is considered to be a standard feature but it's always useful to know.
The increase in the contactless limit (£45 in the UK) means you can buy more without the need for a pin- a feature that was important in the pandemic.
Is Curve Safe?
Curve is regulated by the Financial Conduct Authority (FCA) via a representative firm.
The goals of the FCA are to:
Safeguard customers
Enhance the integrity of the Uk financial system
Promote healthy competition to improve public service
That means your details and private information is safe and secure.
Unlike most cards/banks, Curve is not protected by the Financial Services Compensation Scheme (FSCS).
The scheme is designed to protect customers' money (up to £85,000) if for any reason the company was to go bust.
Curve is not eligible since your Curve balance is classed as e-money, which doesn't fit the criteria for protection.
It should be noted, however, Curve's balance is kept separate from the customer's funds- this is known as safeguarding.
(Note: Curve is not protected by section 75 of the Credit Consumer Act)
Curve Card Versions
Much like Revolut, Curve offers 3 different cards.
Here's a breakdown of what's included in each one so you can determine which better suits you.
| | Curve Blue | Curve Black | Curve Metal |
| --- | --- | --- | --- |
| Cost | Free | £9.99/Month | 14.99/Month |
| FX rates | £500/Month | Unlimited | Unlimited |
| Overseas Spending | £200/Month | £400/Month | £600/Month |
| Cashback | 1% - 3 retailers for 90 days | 1% - 3 retailers for unlimited time | 1% - 6 retailers for unlimited time |
| Contactless Functionailty | Included | Included | Included |
| Curve Protection | Upto £100,000 | Upto £100,000 | Upto £100,000 |
| Insurance | N/A | Travel Insurance Included | Travel, phone and rental car insurance included |
| Spending Limits | £200 withdrawal/Day, £2000/Day, £500/Month & 10,000/Year * | £1,000 withdrawal/Day, £3,750/Day, £20,000/Month & £50,00/Year | £1,000 withdrawal/Day, £3,750/Day, £20,000/Month & £50,00/Year |
| Subscription period | 0 | 0 | Minimum of 6 months |
*In relation to blue cardholders, you may be subject to lesser limits initially depending on certain criteria
As you can see the quite a difference between the perks of each card.
Ultimately it would be your decision but I hope this side-by-side comparison makes analysing their perks easier.
Curve Card Reviews
As with all my reviews, I like to include other opinions/experiences to arrive at a more well-rounded conclusion.
On Trustpilot, Curve has an overall rating of 3.9 out of 5 from over 8,000+ reviews.
68% of those Curve reviews rated them as excellent whilst 14% rated them as bad.
Positive Curve reviews noted:
Easy to use
Makes life easier
Good cashback options
Negative Curve reviews mentioned things such as:
Questionable customer service
Failed transactions
FAQS
How Do You Cancel Your Curve Card?
To cancel your curve account you'll need to contact Curve directly- all they'll ask is the reason why you are choosing to cancel.
How Long Does It Take To Get A Curve Card?
After you've signed up it should take a few days to come via the post.
Is Curve Safe To Use?
Yes- Curve is safe to use as they are regulated by the FCA via an appointed representative.
What Is The Company Curve?
Curve connects your bank accounts together to allow you to spend money all via your one Curve card.
What Is Curve Wallet?
Curve allows you to spend money from your different cards all via your Curve card- essentially eliminating the need for a wallet.
How Much Do You Have To Pay For Curve?
Curve is free but they do have monthly subscription cards too with more features/perks.
Can You Withdraw Curve Cash?
No- Curve cash is not redeemable for actual cash so you cannot withdraw it.
Conclusion Of This Curve Review
Now this curve review is drawing to a close I hope you have a clearer picture in your mind about the product/service they provide.
It's undeniable that the overall concept of Curve is simple but genius and a sentiment shared by all customers (regardless of experience).
Curve does its best to solve an ever-growing problem (literally) and deserves props.
Having said that, innovative ideas are great but it's the execution that really separates successful companies from the rest.
My 2 cents on this is that Curve is practically there- needing only some optimisation of their features.
If it was me, I would feel inclined to take another primary card alongside my curve card, just to be safe from possible transaction issues.
Whether or not you think this defeats the whole purpose of having Curve will ultimately lead you to whether or not it's for you.
I hope you enjoyed this Curve review as much as I have researching it.
Related articles:
As always be sure to leave a comment as I'd love to hear your take on this Curve review and whether or not it's worth having.