What Is Revolut?
Revolut, similar to other challenger banks, can only be accessed online or via their app.
It should be noted that technically Revolut is not classed as a bank (although I will refer to it as one throughout) in the Uk because it doesn't have a license.
The correct term to describe Revolut would be a digital payment system but it essentially does everything 'normal' banks do.
(Note: I'll talk more on what Revolut can't provide as a result of not having a Uk license later)
Revolut has no psychical branches, meaning you manage all aspects of your finances via their app.
Revolut was launched in July of 2015 by Nikolay Storonsky and Vlad Yatsenko- both capable and experienced individuals with backgrounds in finance.
Much like Monzo, Revolut would start out as a prepaid card and app.
It was designed initially to allow travellers to be able to swap between currencies cheaply.
Revolut would not obtain a specialised banking license until 2018 from the European central bank (facilitated by the bank of Lithuania).
This meant the bank could then accept deposits and offer consumer credits.
The company then decided to scale by increasing its staff and receiving several more rounds of funding.
At the time of writing, Revolut is the UK's most valuable financial technology start-up with a valuation of £25 billion.
How Does Revolut Work?
As I mentioned earlier, Revolut is a solely online bank, meaning you can do all the essentials and then some via the app.
Just like 'normal' banks, Revolut offers a personal and business account for its users.
(Note: Instead of joint accounts Revolut offers a group vault feature)
You'll be able to set up direct debits, standing orders and so on through the Revolut app.
Besides the normal features of traditional banks, Revolut has many money management features you can take advantage of.
By providing such features (explained later), users have more control over their finances in the hopes it will encourage better money management.
Revolut's Sign Up Process
Like Monese, Revolut advertises that they have a quick and easy registration process.
So here's a brief overview of how you'd create an account.
The Revolut app is available for both Android and IOS devices.
Type in Revolut and download the app.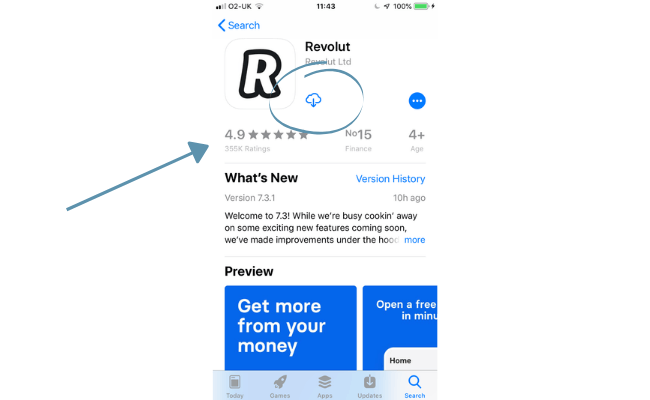 Wait for it to download and then press the icon.
You'll then have a few brief slides on some of the features within Revolut (we'll look at each one in more depth next).
By clicking 'open a free account' you'll be asked to fill in your phone number and verify it via a code.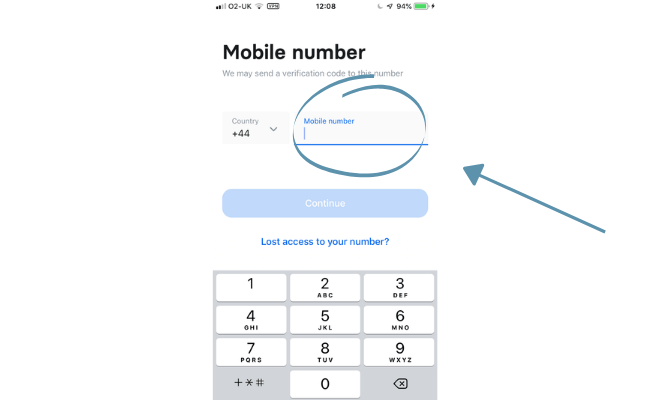 Then create a passcode that you'll need to enter whenever you log in.
You'll also be asked to confirm it which should be no problem unless you have the memory of a goldfish like me.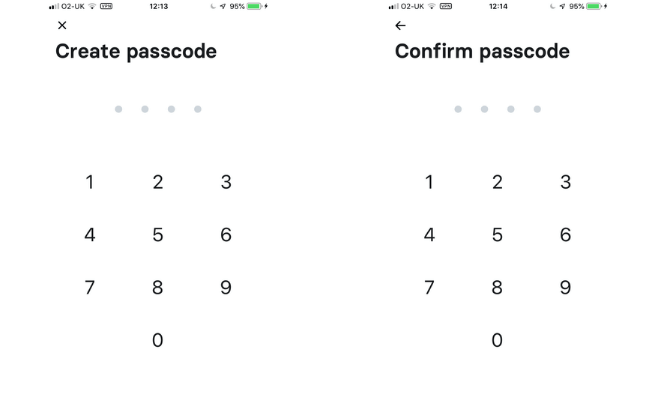 Next up Revolut will need some information regarding your postcode, legal name and date of birth etc.
After you've completed this you'll be asked whether or not you want to deposit funds currently.
As well as the friendly reminder that you'll need to verify your identity before you send or spend money.
(Note: I recommend doing this straight away as you'll have to do it at some point to get the essential functions)
Verifying your identity will require you to submit a form of identification and take a selfie.
Revolut only excepts these two forms of ID:
All you'll need to do is take a picture of either (ensuring all corners are within the shot) and then it will be sent off.
Then take a selfie.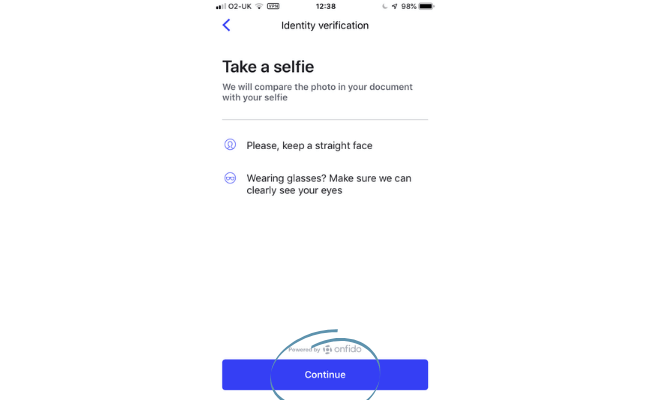 Once completed, your documents will be reviewed and you'll have a response from Revolut within a weeks time.
(Note: I received my confirmation the same day but timing will vary)
In the meantime, you'll be taken to the 'get started' section.
Here you can set up a virtual and psychical card.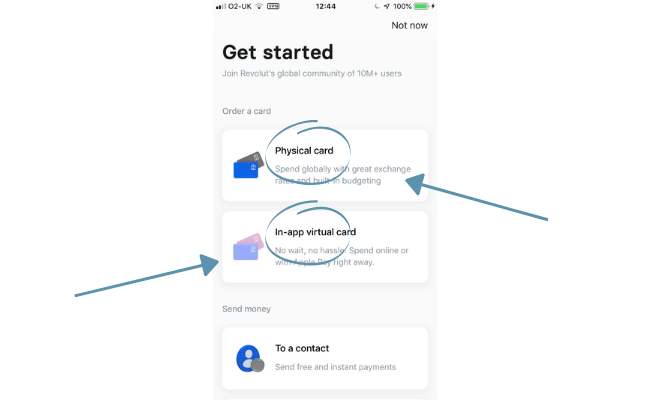 Let's first order our psychical card.
What's great about Revolut is you can customise your card if you subscribe to either their 'metal' or 'premium' card (more on this later).
Of course, it has no practical use but it's a nice touch.
The free standard card is featured below.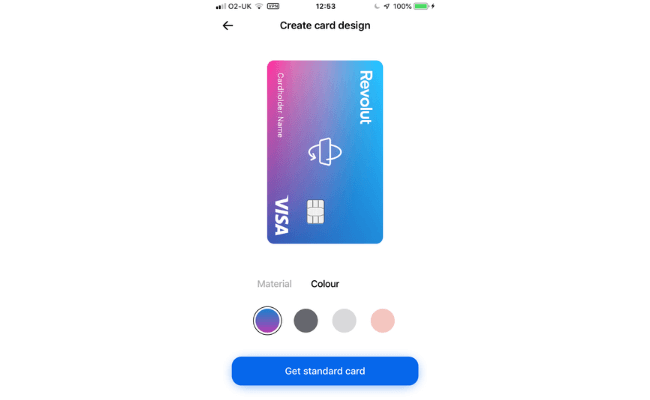 Confirm your pin, delivery address and when you want to receive your card.
As you can see from the image below you have a few options.

The first option requires you to sign up for a subscription plan (premium or metal).
That means it's not 'free' but instead the minimum you'll pay is £6.99 a month for premium (includes added perks).
Alternatively, you can select express delivery for £11.99 if you are in a rush or standard delivery for £4.99.
Either of these options doesn't require you to subscribe to Revolut's upsell services.
What this does mean is you pay to own the card whether that be in the form of a one-time delivery payment or a monthly subscription fee.
Once you've ordered your psychical card, you can then sort out your virtual card.
You have the option of a standard virtual card and what's called a disposable virtual card.
The standard version is fairly self-explanatory and will be your 'main' virtual card.
It can be connected to Apple pay to allow touchless transactions in shops etc.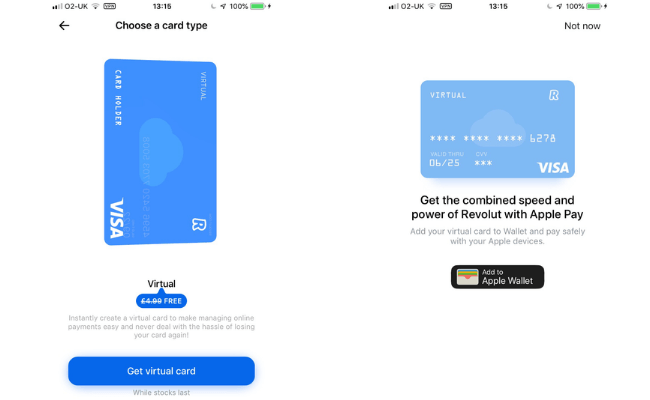 A disposable virtual card, on the other hand, is a card that will change after each use.
This adds another layer of security for online transactions and protects your card from online fraud.
It's also worth noting that you cannot connect this virtual card to apple pay.
That's the signup process completed as well as the available cards you may need!
Next, we are going to move on to the card's features in this Revolut review.
Revolut's Features
(Note: All of these features are standard and do not include the added perks from upgraded plans)
This section on features is likely to be the most interesting part of this Revolut review simply because it provides so many.
Let's take a look at each one in some detail.
Overseas
Having started out as a card designed to help achieve good exchange rates when travelling abroad, you would assume Revolut would excel here.
If you did, you'd be 100% right because Revolut charges no fees for spending abroad.
It should be noted however that limits do apply.
Another handy feature that is accessible through the app whilst on the topic of being overseas is their currency exchange feature.
You can choose between 28 different currencies (at the time of writing) using an up to date exchange rate.
To do this all you need to do is head over to your accounts tab and click the account you want to adjust.
Press exchange.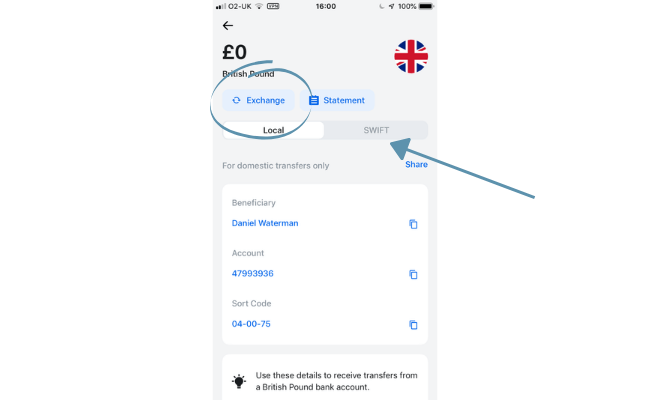 Then you can choose what currencies you want to exchange using the markers.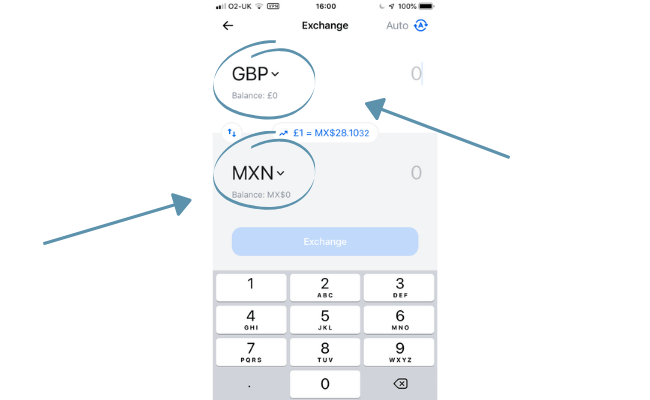 There you have it, simple and useful.
Round-Up
Every time you make a card transaction with Revolut, they can round up your purchase to the nearest whole number.
By selecting this feature it can then place that money in one of your vaults/saving goals.
You have the option to accelerate this if you choose to, meaning the change can be multiplied by a factor of 2 for example.
Roundup is also adjusted for each currency as the value of each unit varies.
This is an idea that was given to Revolut by a user.
So not only did they listen but they implemented it which is nice to see.
To activate this feature head over to 'vaults'.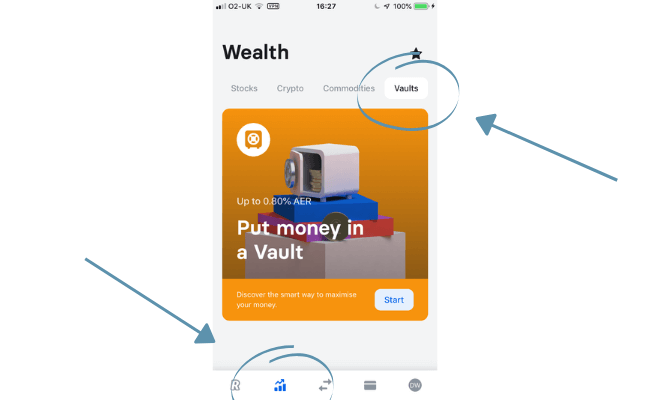 Select what type of vault you would like and label it.
(Note: Savings vault is only accessible to upgraded accounts)
After you select your goal, you'll be taken to the section below where you can choose to activate the feature and to what degree.

This goal will then appear in the 'vault' section after completion.
Budgets
Budgeting is a very useful feature that we all need.
Whether we like budgeting or not it's important and Revolut thinks so too as they have integrated a budgeting feature.
In theory, the more control you have over your finances, the better you'll manage them.
To set up a budget simply head over to the graph in the top right-hand corner and you'll then be presented with the budgeting function.
You can then set a budget for whatever you like.
There is also the option to categorise your budgets as shown below.

Budgeting made easy.
Transaction History
Although this is almost a compulsory feature in today's day and age, it's still worth noting.
You can find a clear breakdown of your spending on your homepage, as shown below.
Further information about the transaction can be accessed by clicking on it.
Split Bills
Splitting bills is a neat feature you can take advantage of with Revolut.
You can settle payments with any of your contacts.
When you set up a split bill feature, the individual who owes you will be notified instantly.
In a few clicks, the payment can be sent to you.
To set this up all you need to do is head over to payments and click start.
(Note: When you first get started you will have various slides on features that you can familiarize yourself with including splitting bills)
Click 'get started'.
Then you can select who from your contacts owes you their share of the bill.
Investment Vehicles
An extremely impressive feature that Revolut is able to facilitate within their app is not only investing in stocks but in cryptocurrency and commodities.
To further sweeten the deal, all transactions on stocks are free from fees.
To access these investments move over to the 'wealth' section.
As you can see from the image below, you have various investment vehicles to take advantage of.

To invest, simply click on what vehicle you want.
(Note: This example will be done using stocks)
Choose from the options listed through Revolut.
If you decide to invest, you'll be asked to fill in your national insurance number as well as some other details.
After you have completed that, you can use it freely to invest in whatever you like.
Freeze Card
If you ever lose or misplace your card, you can simply freeze it via the app.
This feature can save you time.
You won't have any potentially long and boring phone calls with your providers this way.
Traditional banks should take note.
All you need to do to freeze your card is head over to the card section and click 'freeze card'.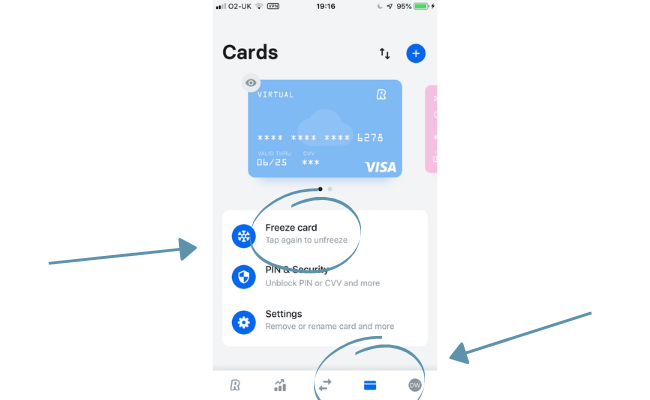 To unfreeze your card, simply re-click it.
Link Accounts
Revolut allows you to connect all of your other bank accounts so you have all your finances in one place, similar to Curve.
As you can imagine this is very useful.
To connect your accounts, head over to 'home' and click 'linked'.

You'll be taken to this screen.

After having a read you can connect the bank accounts you have with different providers.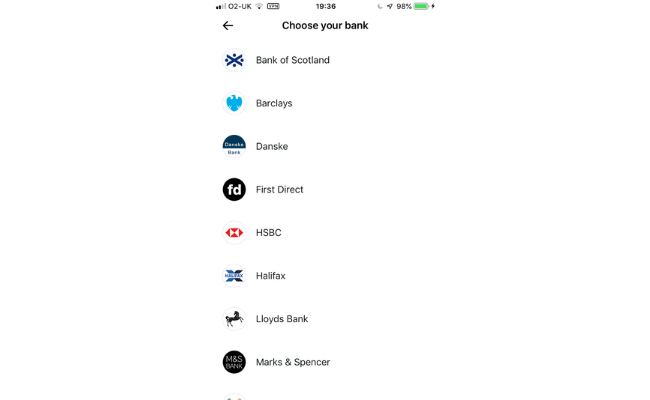 Transfer Abroad
Revolut proudly advertises that you can send money to over 30+ countries at the correct exchange rate.
That's pretty impressive, especially when you consider there are no 'hidden fees and rubbish rates' as Revolut puts it.
You can covert up to £1000 for free and upgrades to Premium or metal will allow you to send higher amounts.
To transfer, all you need to do is head over to the payments section.
Then press the plus sign in the top right-hand corner a click 'add bank account'.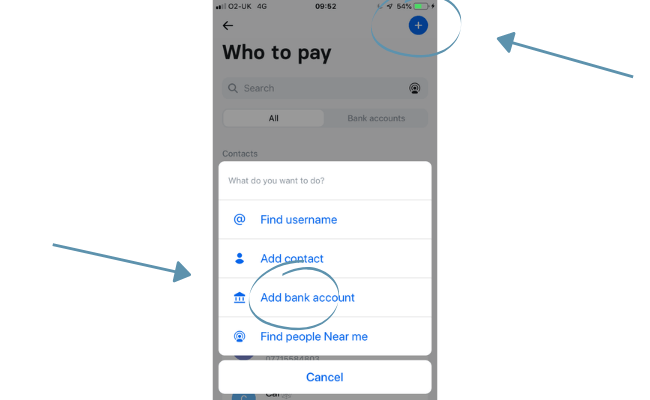 From here you just need to fill out some details including your recipient's country.
After that, you're good to go.
Spending Notifications
You can get real-time information regarding your spending as soon as you make payments.
That means you'll be notified instantly.
This can be particularly handy for users who have a joint and/or business account.
It's a simple feature but a convenient one to have.
Recurring Payments
You can find information regarding your standing orders, direct debits and subscriptions all in one place.
By knowing in advance when money is coming out of your account you can manage your finances around each payment.
This information can be viewed on the home screen.
Accounts
You may have picked up earlier in this Revolut review that they offer 3 different versions.
Standard is free, 'premium' is £6.99 and 'metal' is £13.99.
Here's a look at what each one provides in a side by side comparison.
| Perks | Standard | Premium | Metal |
| --- | --- | --- | --- |
| Card Customisation | standard card | Standard + 4 available colourways | Premium + metal card with extra 4 colourways |
| Cost | Free | £6.99/Month | £13.99/Month |
| Cashback | N/A | N/A | 0.1% in Europe, 1% outside |
| Free withdrawals | £200/Month | £400/Month | £600/Month |
| Overseas Medical Insurance | N/A | Included | Included |
| Free Spending Abroad | Included | Included | Included |
| Customer Support | Included | Included + Priority | Included + Priority |
| Global Delivery | N/A | Included | Included |
| Lounge Access | N/A | Included | Included |
| Flight Insurance | N/A | Included | Included |
| Junior Account | N/A | Upto 2 Children | Upto 5 Children |
Is Revolut Safe?
Revolut is fully regulated by the FCA, meaning it has the same security levels as Uk banks.
They must adhere to strict regulations under the FCA to ensure great care is taken with our personal and financial details.
The goals of the FCA are:
To safeguard customers
Enhance the integrity of the Uk financial system
To promote healthy competition to improve service for the public
However, as I stated earlier, Revolut does not have a Uk bank license.
What does that mean?
The absence of a license means that your money is not protected if for any reason Revolut was to go bust.
Banks with a Uk license are backed by the Financial Services Compensation Scheme (FSCS) which protects accounts up to £85,000.
(Note: The only other difference is that Revolut can not offer lending services)
However, a license is hopefully on the horizon as Revolut has filed for its Uk license.
If there are any new developments, I'll be sure to update this portion of the Revolut review.
So to sum it all up, your money is safe and protected unless Revolut goes bankrupt, at least for the time being.
Revolut Reviews
Revolut is rated 4.4 out of 5 on Trustpilot from over 90,000+ reviews.
76% of those revolut reviews rate the company as excellent.
Positive reviews include:
Easy to use
Greate features
Good travel perks
Negative reviews touch on things like:
Customer service
No longer fee-free
FAQS
Can Revolut Be Trusted?
Revolut is authorised by the Financial Conduct Authority- to uphold strict rules and regulations to protect customers.
What Happens If Revolut Goes Bust?
Revolut is not protected by Financial Services Compensation Scheme as it does not have a Uk banking license.
However, if Revolut was to go bust, your funds can be claimed from your segregated account and will be prioritised over other creditors.
Who Is The Owner Of Revolut?
The founder Nik Storonky owns around 20% of the company, the rest is held by private investors.
Is Revolut A Normal Bank?
Revolut does not have a full Uk banking license making it an E-money institution rather than a bank.
Although Revolut offers most services a bank can, it cannot offer lending services nor are its user's funds protected by the FSCS.
Final Thoughts On This Revolut Review
To wrap this Revolut review up, on the whole, I was very surprised.
Revolut was not on my radar until recently and having studied the company with the services they provide I can say I'm impressed.
This card seems to be a must-have when you go abroad for the wide array of travelling perks they provide, staying in touch with their roots.
I also think the addition of virtual cards and investment vehicles within the app is very forward-thinking, which should be admired.
However, every business has its faults.
The main criticisms with Revolut seem to be related to their customer service and/or handling of user's accounts (freezing and suspensions).
Lastly, if it had not been for the absence of their Uk banking License, Revolut would be in the conversation for the best challenger bank.
The decision is ultimately yours, but I hope this Revolut review has provided enough information for you to make a choice (whatever it may be).
If you are looking for reviews on alternatives to Revolut, check out some of mobile app reviews articles I have recently created:
As always be sure to leave a comment on this Revolut review if you enjoyed it or equally if you think I missed anything out.