Monese, although relatively unknown in comparison to some of its competitors, arguably paved the way for the 'modern-day' bank.
Therefore, in my view, this Monese review is long overdue.
Does being the first online bank to open in the UK make it the best though?
All will be answered in this article.
What Is Monese?
As I alluded to earlier, Monese was the first mobile-only bank account to launch in the Uk.
Monese would open its virtual doors to deposits as early as September 2015.
The whole concept of Monese was born when the founder, Norris Koppel moved to the Uk but found it hard to open a bank account.
This was due to the fact he had no prior Uk credit history or utility bill that could prove his address.
The philosophy of Monese, therefore, revolves around being inclusive, instant and on-demand.
In 2016 the company would win 'Best Challenger Bank' at the European Fintech Awards.
They would then set about expanding and developing services through funding across Europe.
Fast forward to today and people from all around Europe can open up an account in minutes, without any hidden fees and restrictions.
An impressive story that led to the creation of a new sector within the financial industry known as 'challenger banks'.
How Does Monese Work?
Like the majority of 'new school' banks, Monese has no psychical branches.
That means the majority of actions you want to make can be done at the touch of a button.
Monese is essentially a bank in your pocket that anyone can sign up for within a few minutes (more on this later).
Just like traditional banks, Monese offers personal, joint and/or business accounts.
As soon as you get your card through the post you can also start to set up direct debits, standing orders etc via the app.
All Monese cards have contactless functionality and can be synced with Apple pay to allow you to shop even without a psychical card.
Besides filling the standard properties of a bank, Monese offers a whole host of money management features for you to take advantage of.
We'll touch upon that in more detail later on in this Monese review, but for now, I'll take a quick look at the signup process.
Monese's Features
(Note: All of these features come standard, not requiring upgraded plans to access them)
This section is likely to be the most interesting part of the Monese review.
Challengers to the traditional banks typically try to level the playing field by providing handy and useful tools.
Therefore you have more control over your finances in general, which will help to develop your management skills.
Let's take a look at each one in more detail.
Multi-Currency Accounts
As you could see from the signup process when creating an account you have the option to choose what currency you would like.
You are allowed to have an account for each currency which is handy if you buy or sell abroad.
It can also serve as a good holiday account as you'll money will already be in the correct currency without the need to change it in the post office.
Spending Notifications
You can get real-time information regarding your spending as soon as you make payments.
That means you'll be notified instantly every time.
This can be handy for those who have a business and/or joint account.
Simple but handy.
Track Expenditures
Monese has a dedicated section on tracking your outgoings.
You'll find a list of all your transactions across the month.
Not to mention, your spending habits for the prior months.
To access the reports simply head to 'spending' on the homepage.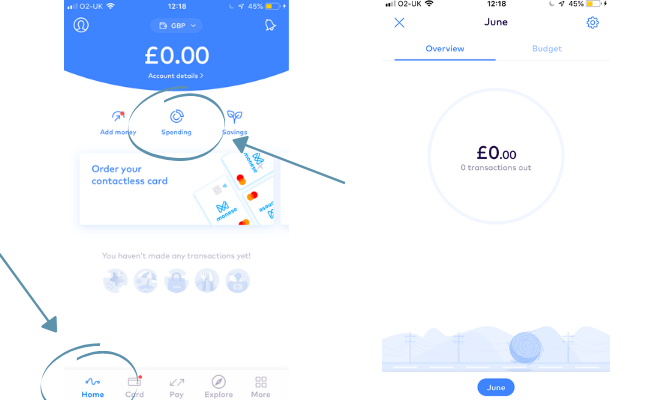 From here you'll have an overview of your spending data.
Set Budgets
A trendy new feature that challenger banks are including in their apps is setting budgets.
Much like Monzo and Starling, Monese has a dedicated section for setting budgets.
This will serve as a friendly reminder to plan around the budget you choose.
All you need to do to set a budget is head over to 'spending' once more.
Press 'budget' and then 'set a budget'.

You can then set a limit and you're done.
From now on you can find your budget under that section.
Abroad Transfers
Monese enables customers to convert money at an interbank rate so you'll pay the same wholesale rate as banks.
You can also have your money converted into 19 different currencies at the time of writing.
To send money abroad, all you need to do is head over to 'pay' and press 'send money globally'.

Then you need to fill out some information regarding the recipient's bank details and you're all done.
Lock Your Card
Locking your card, more commonly known as freezing your card, means you can stop transactions taking place, rendering it unusable.
This feature will potentially save you lengthy and boring phone calls with your provider because you can do it at the touch of a button.
To lock your card, all you need to do is head over to 'card'.
Move along to the card you want to freeze and press 'lock'.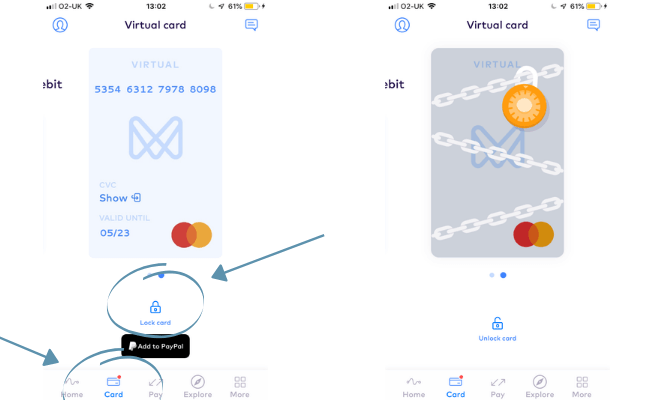 You'll know when your card is locked because it will have the animation above over the top of it.
To unlock, simply click the same button, it's as simple as that.
So if you ever lose or misplace your card, this feature will come in handy.
Monese Accounts
You may have picked up earlier in this monese review that they offer 3 different account versions.
Here's a look at what each one provides in a side-by-side comparison.
Variation
Standard
Classic
Premium
Cost
Free
4.16/month
10.41/month
Withdrawals
£200 free
2% fee thereafter
£900 free
2% fee thereafter
Unlimited
Foreign Currency Transfers
Free to monese accounts
2% for other accounts (£2 feeminimum)
Free to monese accounts
0.5% for other accounts (£2 fee minimum)
Free for all accounts
Support
Included
Included
Included
Free Cash Top Up
N/A
£900 free
2% fee thereafter
Unlimited
Overseas Spending
£2,000/month
2% fee after
£9,000/monthly
2% fee after
Unlimited
Contactless
Included
Included
Included
Apple/Google Pay
Included
Included
Included
Direct Debits & Recurring payments
Included
Included
Included
As you can see, both paid packages offer an increase in perks quite substantially.
Having said that, it's a reoccurring fee each month and the standard card fulfils MOST people's needs from their card.
Ultimately, the decision is yours.
Hopefully, this side-by-side comparison has helped you come to a decision on which version would better suit you.
(Note: Don't hesitate to send me an email via dan@the-money-equation.com if you have any questions)
If you're all up to date, we can move on.
Limits And Restrictions
Now you know what to expect from each account, it's time to go over some restrictions and limits that apply.
Here's a quick overview:
Maximum account balance of £40,000
Cash top-up via the post office £5 minimum – £500 maximum
Cash top-up via PayPoint N/A minimum – £249 maximum
Daily top-up via debit card £10 minimum – £500 maximum (up to 2 payments)
Income faster & BACS payments (per transactions) N/A minimum – £40,000 maximum
Card purchases (per transaction) minimum N/A – £4,000 maximum
Daily cash withdrawals via ATM £300 maximum
Outgoings faster & direct debit payments (per day) minimum N/A – £40,000 maximum
Is Monese Safe?
The case of Monese is very similar to that of Revolut in that they do not have a Uk banking license.
Technically Monese is more of a digital payment system than a bank but still shares many of the same properties.
Here are the main differences as a result of not having a Uk banking license:
Not protected by FSCS– If Monese was to go bankrupt, you would not be compensated for your account losses.
Lending– Monese can not offer lending services such as an overdraft or loan.
What you will be glad to hear, however, is that Monese is regulated by the Financial Conduct Authority (FCA).
This means Monese has the same security levels as banks, adhering to strict rules and regulations.
The goals of the FCA are:
To safeguard customer
Enhance the integrity of the Uk financial system
To promote healthy competition to improve service to the public
To sum up this section of the Monese review, your money is safe with the company unless they were to go bankrupt for any reason.
I will be sure to update this portion of the review if any new developments occur (plans to apply for a license etc).
Monese Reviews
As with all my reviews, I like to include other opinions/experiences with the company to arrive at a more well-rounded conclusion.
On Trustpilot, the company has been reviewed over 27,000 times.
68% of the monese reviews rate them as excellent whilst 17% rated them as bad.
Positive Monese reviews include things like:
Quick to set up
Easy to navigate
Great way to keep track of your money
Negative Monese reviews touch on aspects like:
Having their accounts blocked
Slow response times
FAQS
Is Monese Safe And Legit?
Yes- Monese is regulated by the FCA and must adhere to strict rules and guidelines.
Can I Receive My Salary On Monese?
Yes- you can receive your salary on Monese.
What Happens If Monese Goes Bust?
Monese is not FSCS protected meaning if they were to go bust your funds will not be recompensated.
Which Is Better Monzo Or Monese?
Monzo is FSCS protected whereas Monese is not- that alone makes Monzo a safer and therefore better option.
Aside from that, Monzo provides more features overall and is considered one of the more popular challenger banks in the market today, despite having its problems.
Conclusion On This Monese Review
Now that this Monese review is drawing to a close, we have a strong basis to make a decision on how good it is on the whole.
Monese's humble origins came about as a result of technical and demanding criteria for bank applications.
The company has formulated a service that is quick, with an easy signup process for all members of the public across Europe.
Besides these qualities, Monese's strengths seemed to lie in their multi-currency accounts and global transfer system.
By contrast, the main criticisms of the bank are to do with its customer service and problems regarding account suspension/freezing.
Although they may have paved the way for the 'new school' banks, I get the impression they have been left behind in many respects.
Competition in this space is fierce, with the likes of Revolut just providing better rates overall.
So it is my belief, at least for the time being, there are better options out there than Monese.
If you enjoyed this Monese review, consider checking out some of the software product review articles on challenger banks such as:
As always be sure to leave a comment if you enjoyed it or equally if you think I missed anything out from this Monese review.