We live in a world today in which there is a growing animosity towards AI's capabilities and where it truly stands alongside humans.
Will robots take over the world and render us obsolete?
That's another discussion for another blog!
Thankfully Plum is not a key player in destroying the human race with AI.
Instead Plum harnesses AI's logistical powers to create a nifty little app in the personal finance space.
The company's mission is to help combine your finances with artificial intelligence, to achieve effortless money management.
I'll show you exactly how this is done and much more in this comprehensive Plum review.
What Is Plum?
Plum, as I alluded to in the introduction, is an app in the money management space.
It was founded in 2016, with the aim of making saving and investing easy and hassle-free.
Now unlike its competitors such as Yolt, Plum uses AI to help you save, grow and manage your money.
By leaving your finances to AI, you eliminate the emotional component of money management which often holds us back.
If you are unconvinced by this, just think about the last time you persuaded yourself to buy something because you 'wanted it'.
This is just something we do as humans but guess what, robots do not!
How Does Plum Work?
Plum works via their app in which users when signing up (more on this later), can configure the algorithms according to their preferences.
By taking this, along with all the information from the accounts that you link to Plum, you'll unlock the AI's full potential.
From your spending reports, Plum works out the optimal amount you can save regularly without affecting your financial life.
Plum looks like the perfect finance partner so far doesn't it?
Plum's Features
Perhaps the most interesting part of this Plum review is the features the app provides.
In the competitive space that is money management apps, all companies are looking to outdo one another.
It's fair to say Plum has definitely given it a good go as you'll see from the features listed below.
(Note: Some of the listed features are only accessible through Plum's paid versions)
Saving
One of the main components of Plum is its saving capabilities using artificial intelligence.
That means plum analyses your expenses and income and determines a safe amount to set aside.
Automatic saving is influenced by the 'mood' you set.
To change your saving setting click on the brain icon.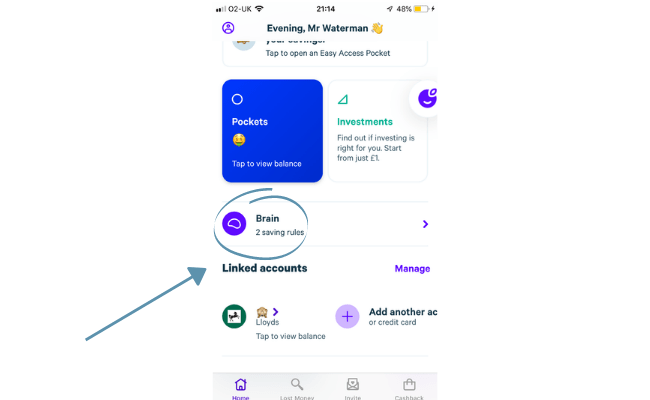 Click on 'automatic' and scroll down to 'current mood'.
From here you can change how much you set aside.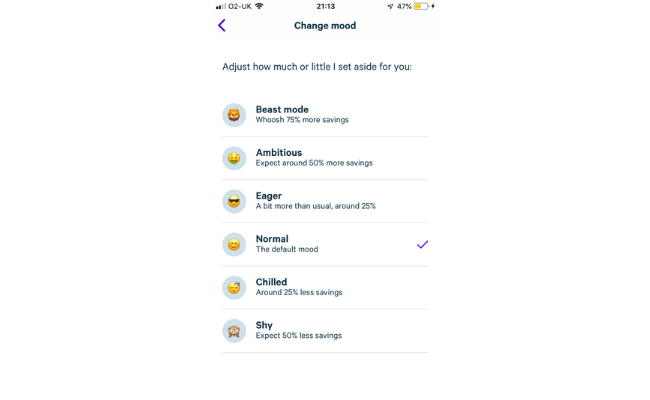 Privacy
Under the privacy settings, you can hide the balances of your account, investments and linked account.
Plum provides this feature show that you can show friends how the app works without 'revealing yourself'.
This is a handy little feature to have and one that I only know is shared by its main competitor Yolt.
To access this area all you need to do is press the icon in the top left-hand corner on the homepage.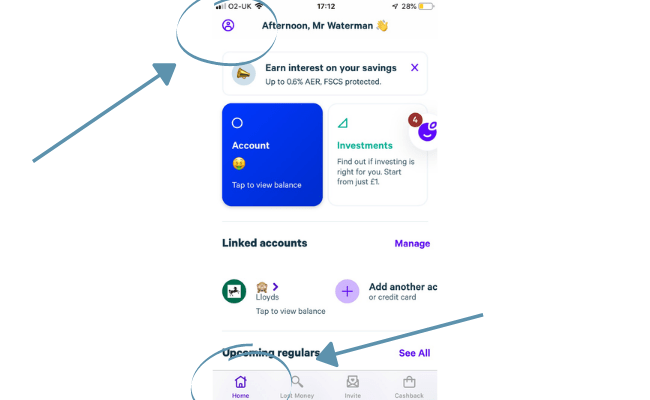 Scroll down to 'safe space' and click on 'privacy'.

Roundups
Roundup is a feature that triggers weekly and rounds your transactions to the nearest pound.
It will then transfer the spare change into your saving accounts.
You also have the option to turn on 'pound ups' which puts away £1 for anything that is .00 exactly.
To find the roundup setting, click on the brain icon.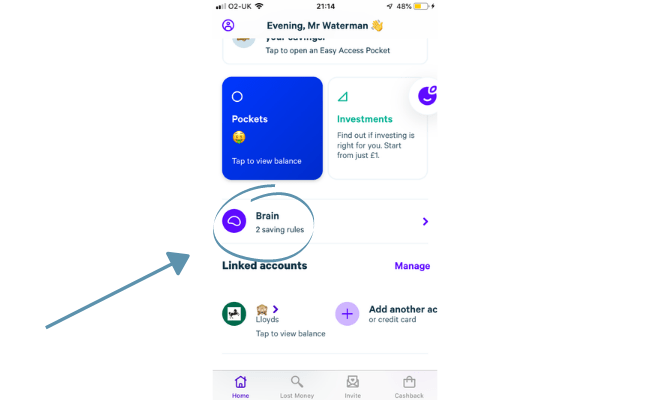 Press 'round-ups' and set the options to your preference.

Latest Transactions
To view the transactions of your linked cards simply scroll down on the home page and you'll reach the subheading 'latest transactions'.
Somewhat a common feature but a useful one nonetheless.
Lost Money
Lost money is an interesting feature provided by Plum which essentially details ways in which you could be losing money.
Plum believes most people overpay on:
Energy- Plum highlights that it's saving people £190+ on energy bills in some cases.
Personal Loans– Plum will find you pre-approved loans at good rates that suit your current situation
Broadband–  Loyal customers tend to get the worst deals. So swapping could save you a significant amount of money.
Travel Insurance– According to Plum's statistics, 1 in 5 people get the wrong policy and overpay for it.
Car Insurance- Finding a new insurer with Plum could help bring down your costs.
Aside from this, Plum also has a couple of sections on cards that could be of some use to you, such as:
Purchase Card– Let's you spread payments.
Balance Transfer Card- Helps bring multiple debts into one place, making it easier to manage.
So not only can this section help you save some money, but it also provides tools with which you can use to improve/manage your financial situation.
To dive deeper into what plum has to offer on each expense, just head over to 'lost money' and click on what you'd like to save on.
Each option has its own process and can be completed fairly quickly with the help of Plum's AI.
Cashback
(Note: This is a feature exclusive to paid versions)
Plum can help you get cashback from a range of selected stores in all niches.
That money will then go straight into your account!
To browse through the available offers, move over to the cashback section and select your desired company.
You'll then be taken to their website where you can buy some goods with the added bonus of receiving a set cashback percentage.
It's important to note however that Plum rewards cant be used in conjunction with other promotions or offers.
So take advantage of this feature when you don't have a readily available discount code!
Investing
(Note: This is a feature exclusive to paid versions)
As I alluded to earlier, Plum allows users to invest a set sum (determined by you) into an ISA or general investment account.
Money from general investment accounts can be deposited or withdrawn whenever you like, free of charge- withdrawals take between 5-7 days.
Plum promotes funds as opposed to single stocks to protect you from potentially bigger downsides.
For those of you that are fairly new to investing, a fund is merely a collection of different companies and/or assets.
That means you'll be buying into a group of businesses, which in principle, spreads the natural risk that comes with investing.
Some funds also include bonds which act as a way of being able to lend businesses and Governments money at an agreed interest rate.
(Note: Bonds are often considered much safer than stocks and shares)
Below you'll find an up-to-date chart of the funds that Plum has to offer.
| Label | Fund Contents | Risk | Annual Return | Annual Managment Fee |
| --- | --- | --- | --- | --- |
| Balanced Bundle | 60% stocks, 40% bonds | Medium | 8.7% | 0.22% |
| Tech Giants | Technology stocks like Apple & Microsoft | High | 29.09% | 0.32% |
| Growth Stack | 80% growth Stocks, 20% bonds | High | 10.13% | 0.22% |
| Slow & Steady | 20% stocks & 80% bonds | Low | 5.73% | 0.22% |
| Clean & Green | Socially responsible companies like Kainos and Poly Pipe | Medium-High | 3.39% | 0.9% |
| Rising Stars | Emerging companies in Asia and Africa like Alibaba & Samsung | High | 3.76% | 0.8% |
| The Medic | Shares in healthcare, pharmaceuticals and biotechnology | High | 13.19% | 0.69% |
| American Dream | 500 largest public companies in the USA (S&P500) | High | 17.21% | 0.1% |
| Best Of British | 100 largest public Uk companies (FTSE 100) | Medium-High | 2.96% | 0.06% |
| European Essentials | Large and mid-sized companies in Europe | High | 9.51% | 0.12% |
To invest in a fund simply click through into the investment section.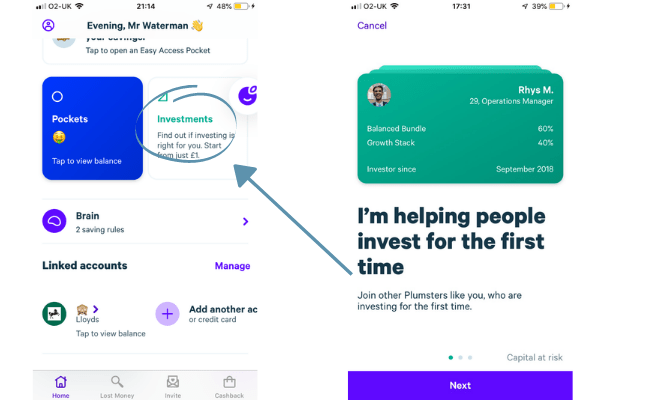 Choose a fund, select your investment account type and you're good to go.

Upcoming Regulars
'Upcoming regulars' gives you a heads up as to when your subscriptions are due.
Under each designated icon, you can find the amount due and the date in an attractive, modern fashion.
Clicking on any one will give you some additional data including the total spend over 6 months and the account it's paid from.
Upcoming regulars can be found by scrolling down slightly on the home page.

Invite
Referral programs are always a great way for companies to expand and it seems Plum share the same sentiment.
They currently offer £15 for every 3 friends you get to join the app.
Not only is that a respectable deal but Plum also makes it easier for you to recruit by connecting your contacts to the app.
That means you can effortlessly find and invite friends that are on your address book.
To invite friends, simply move over to the invite sections and connect your contacts.

How Much Does Plum Cost?
Plum offers 4 different packages, here's a side-by-side comparison of what you get in each.
Account types
Basic
Plus
Pro
Ultra
Cost
Free
£1 /Monthly (Free for first 30 days)
£3 /Monthly (Free for first 30 days)
£5/ Monthly
Savings account
✅
✅
✅
✅
Investing
❌
✅
✅
✅
Automated Saving
✅
✅
✅
✅
Round Ups
✅
✅
✅
✅
East Access Pocket
(FSCS Protected)
✅ (0.25% AER)
✅(0.40% AER)
✅(0.40% AER)
✅(0.40% AER)
Pensions SIPP
✅
✅
✅
✅
Cashback
❌
❌
✅
✅ (Enhanced Rate)
Pockets
✅(1 Interest Pocket)
✅ (1 Interest Pocket)
✅ (10 Interest Pocket)
✅ (10 Interest Pocket)
Goals
❌
❌
✅
✅
Rainy Days
❌
❌
✅
✅
52 Week Challenge
❌
❌
✅
✅
True Balance
❌
❌
✅
✅
Splitter
✅
✅
✅
✅
Pay Days
✅
✅
✅
✅
Overdraft Deposits
✅
✅
✅
✅
Diagnostics reports
❌
❌
✅
✅
Money Maximiser
❌
❌
❌
✅
For those of you that are curious about the ultra plan, these are the add ons that I didn't include in the features section of this Plum review:
Goals- Set yourself a target amount and plum will help you stay on track.
Diagnostic Reports- Compare your spending with other users that are financially similar.
Unlimted Pockets- Splits your money into different categories.
52 Week Challenge- Add a pound a week to your savings.
Rainy Days- Add money to your savings account every time it rains.
True Balance- Tells you the exact amount you have to spend, taking into account your outgoings etc.
Money Maximiser- Calculates your available spending money until your next payday
Is Plum Safe?
Plum is regulated by the Financial Conduct Authority (FCA) to carry out payment service activities.
The goals of the FCA are:
To safeguard customers
Enhance the integrity of the Uk financial system
Promote healthy competition to improve public service
This means your money is protected by a series of safeguards.
Plum uses the electronic money provider Payrnet to set up and administer an E-wallet for you- Plum calls it their 'instant access pocket'.
In other words, the pocket your money first goes into when opening a free account.
Payrnet maintains a specific bank account for all Plum customers with Barclays, which is protected by E-money safeguarding rules.
Plum further states this in regards to the safety of your money:
'If either Plum or our E-Money Provider were to go out of business, you can make a claim to get your money back with priority over any potential creditors'
It's also important to make the distinction that although instant access pockets are not FSCS protected, both investments and interest pockets are.
So if Plum or their custodians go bust, your money is protected up to £85,000 by the Financial Services Compensation Scheme.
(You can find more about Plum's safety measures here)
Plum Reviews
According to Trustpilot, Plum has an overall score of 4.4 out of 5.
This rating was compiled from a collection of over 4000+ reviews.
79% rated the company as excellent while 9% rated them as bad.
Analyzing the positive Plum reviews, here's a summary of what they do well according to its users:
Plum not only simplifies saving but makes it easier
Innovative features
Attractive interface
Negative Plum reviews talk about things like:
Slow money transfers
Chatbox/support
Referral scheme
Plum FAQS
How Good Is Plum?
Plum is a good way to help users save with the help of artificial intelligence.
Does Plum Give Interest?
Plum's saving pockets for both currently
Can You Make Money With Plum?
Yes, you can make money from both Plum's savings accounts.
It's also worth noting all paid account types on Plum grant you access to investment funds from which you could make money.
Just remember that your capital is at risk when investing.
Which Is Better Plum Or Moneybox?
Both are similar in terms of the services they deliver.
However, Moneybox is very much a simplified version of Plum in that it doesn't provide as many features or options.
Conclusion Of This Plum Review
Plum, whether you like it or not, is an innovative company and for that they deserve props.
Combining artificial intelligence with finance is not only optimal (from a decision-making standpoint) but frankly, it's just quite a clever idea.
No doubt this app can be a useful tool for a wide arrange of people looking to simplify and automate their savings.
Judging from the many Plum reviews I've sifted through, as well as my own experience, many are in agreement.
Having said that, there are many alternatives to Plum that offer similar features that in some cases are cheaper and better.
That's why it pays to play the field and Plum's competitors.
Luckily, I've already done the hard work for you and you can find the comprehensive software review posts below:
Aside from money management apps, many 'new school' banks have adopted saving and investing features such as:
As always If you enjoyed this Plum review, feel free to leave a comment and/or share this post on social media.