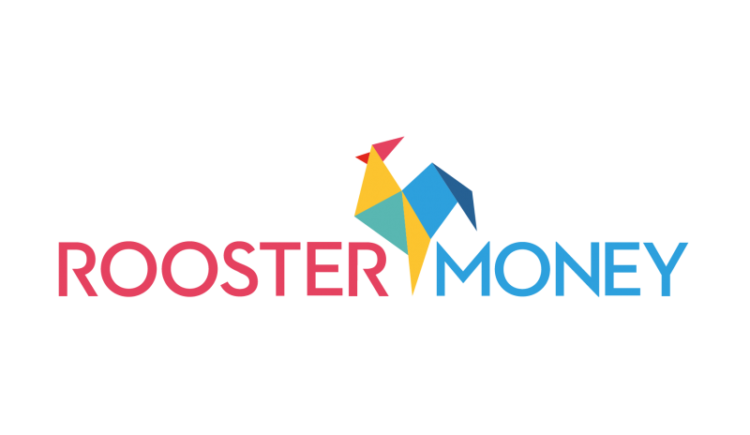 Today I've put together a RoosterMoney review for parents looking to help put their kids on the right track when it comes to finances.
What Is RoosterMoney?
Since January 2016, RoosterMoney has set out on a mission to help our little ones graduate through all the key milestones in learning about money.
It's their belief that, if you can help your child develop some positive money habits, it'll pay dividends in the long run.
Oh, and the earlier the better!
RoosterMoney currently provides tools to cater for the needs of kids ranging from as early as 3, all the way up to 17.
And don't worry, this learning will take place all under the watchful eye of you, the parent or guardian.
That means you can go to sleep easy at night knowing your child hasn't just spent £200 on the latest Fortnight skins.
So does this mean RoosterMoney is the best pocket money app on the market today?
Let's dig a little deeper into this RoosterMoney review and find out.
How Does Roostermoney Work?
RoosterMoney works through their app which can be downloaded on both IOS and Android devices.
You'll need to sign up as a parent by filling out the relevant details about yourself and each child you would like to add.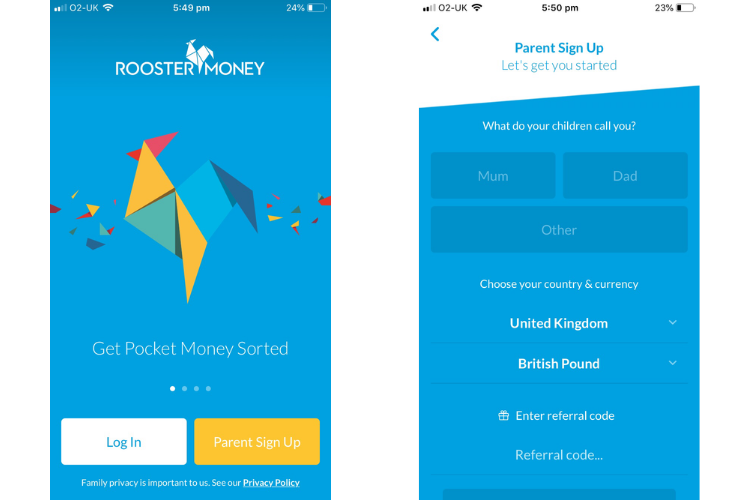 The plan RoosterMoney will offer you initially will depend on the answer you give regarding the main reason for downloading the app (unless you are not sure yet).
If your child is 6 or above and you're interested in them having a card, RoosterMoney will offer to send you their Rooster card, free of charge.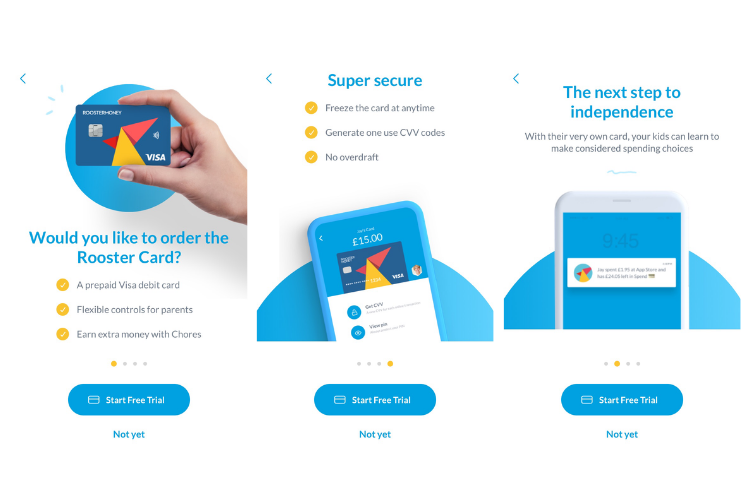 You of course have the option to apply for the card later down the line if you're not comfortable getting it straight away.
It's worth noting that you'll be offered a 1-month free trial that you can cancel at any point.
That's plenty of time for you and your child to get used to all the tools and features of the app.
If your child is 4+, RoosterMoney provides a virtual tracker system whereby your little one can learn about money- receiving stars or virtual money in the process.
For those parents who aren't currently interested in a card, Rooster Plus is a great way to implement chores and set regular outgoings.
Roostermoney Features
Budgeting Tools– Help develop your child's understanding of money by taking advantage of budgeting and saving tools.
Savings Pots- Allocate money into savings pots and customise your child's saving experience.
Chores- Set chores for your child to complete in exchange for small sums of money.
Star Charts- Incentives your young children to create good money habits.
Set Goals- Kids are able to set financial goals to reach.
Multiple Guardians- Multiple guardians can oversee their child's account.
Reminders- Receive reminders for things like chores that you set up on the app.
Instant Spending Notifications- Get real-time updates of where your child has spent money and how much they spent.
Account Types
RoosterMoney offers 3 different account types that vary on a few things:
Your child's age
Amount of features available
Price
Here is a side-by-side comparison of each.
| | Virtual Tracker | Rooster Plus | Rooster Card |
| --- | --- | --- | --- |
| Age | 3+ | 5+ | 6-17 |
| Price | Free | £14.99/Year | £24.99/year |
| Star & Reward Chart | ✔️ | ✔️ | ✔️ |
| Virtual Money Tracker | ✔️ | ✔️ | ✔️ |
| Schedule allowance | ✔️ | ✔️ | ✔️ |
| Spend, Save, Give & Goals Pots | ✔️ | ✔️ | ✔️ |
| Educational Content & Resources | ✔️ | ✔️ | ✔️ |
| Child Login | ✔️ | ✔️ | ✔️ |
| Chore Management System | ❌ | ✔️ | ✔️ |
| Set Interest Rates | ❌ | ✔️ | ✔️ |
| Add Unlimited Guardians | ❌ | ✔️ | ✔️ |
| Set Regular Outgoings | ❌ | ✔️ | ✔️ |
| Use Rooster With Real Money | ❌ | ❌ | ✔️ |
| Pre-Paid Visa Debit Card For Kids | ❌ | ❌ | ✔️ |
| Flexible Card Controls For Parents | ❌ | ❌ | ✔️ |
| Account Number & Sort Code | ❌ | ❌ | ✔️ |
(Note: Rooster card is only currently available in the Uk)
RoosterMoney Fees & Limits
Aside from the subscription fees for 2 of the 3 plans, here are the other costs/limits associated with having a Rooster account.
| Online Spending | Free (Limits Apply) |
| --- | --- |
| Shops | Free (Limits Apply) |
| ATMs | Free (Limits Apply) |
| Maximum Number Of Spends | 15 in a day |
| Loading Parent Accounts | Permitted with all accounts (bar business accounts) |
| Loads By CHAPS Transfer | £10 |
| Moving Money Out | Free (Limits Apply) |
| Chargeback Processing Fee | £25 ** |
| Card Replacement Fee | Free for first replacement, £5 thereafter |
| Maximum Parent Account Balance | £10,000 (Including All Cards) |
**If a third party loads your account, and that person disputes the transaction and RoosterMoney is required are required to return the funds loaded, they may recoup funds lost and charge a £25 fee.
For those of you who want a more granular look at RoosterMoney's fees, click here.
Is Roostermoney Safe?
RoosterMoney is not protected by the FSCS as it's not classed as a bank and therefore does not qualify.
However, RoosterMoney is regulated by the FCA whose job it is to:
Safeguard customers
Enhance the integrity of the Uk financial system
Promote healthy competition to improve services for the public
It's also worth noting, that any funds a customer deposits into RoosterMoney are held in a segregated account.
That means if the company was to ever go bust, its creditors would not be able to touch your money and it'll subsequently be distributed back to you.
Competitors
Pocket money/savings apps for kids are currently a competitive market, so it's important to understand who RoosterMoney's competitors are and what they offer.
Below is a side-by-side comparison.
Roostermoney
Gohenry
Osper
Nimbl
Hyperjar
Age Range
3-18
6-18
8-18
6-18
6-17
Cost
£24.99/Annually (1 month free)
£2.99/Month (1 month free)
£2.50/Month (first month free)
£2.49/Month or £28/Annually (1 month free)
Free
Loading Fee
Free (Limits Apply)
First Of Each Month Free (50p Thereafter)
Free By Debit Card Or 50p For Instant Transfer
Free (Unlimited)
ATMs
Free (Limits Apply)
Free (Limits Apply)
Free (Limits Apply)
Free (Limits Apply)
❌
Spending Online
Free
Free
Free
Free
Free
Fees Abroad
Up to £50 Free (3% Fee On Transactions Thereafter)
No Fees Abroad
£2 ATM fee
3% Per Transaction
£1.50 ATM Fee
2.95% Per Transaction
Free (Mastercard Daily Rates Apply)
Card Replacement Fee
First Replacement Free (£5 Thereafter)
Free
£5.99
£5
£5
App (Child's Version)
✔️
✔️
✔️
✔️
✔️
Set Spending Limits
✔️
✔️
✔️
✔️
✔️
Chore Features
✔️
✔️
✔️
✔️
✔️
Instant Notifications
✔️
✔️
✔️
✔️
✔️
RoosterMoney Reviews
According to Trustpilot, RoosterMoney has an overall score of 4.8 out of 5.
With over 700 RoosterMoney reviews, the company is rated as 'excellent'.
In fact, 88% rated this company at 5 stars and only 2% rated it as 1 star.
Positive RoosterMoney reviews included things like:
Good introduction for kids
Wonderful service
Great teaching material
My kids love it
Negative RoosterMoney reviews note that:
Rooster card is overpriced
Competitors are better
FAQS
Does Roostercard Have A Debit Card?
Yes, RoosterMoney offers a pre-paid Visa card for kids that costs £25 annually.
Can You Use Your RoosterMoney Card Abroad?
Yes, RoosterMoney can be used abroad.
The first £50 is free, but from then on after every transaction has a 3% fee.
How Much Is The RoosterMoney App?
The app is free to download and use with up sales available should you wish to get access to more features/tools.
Does RoosterMoney Use Real Money?
Rooster has 3 plans, of which only 1 you can deposit and spend real money.
The plan I am referring to is known as 'Rooster card' which is their £25/year service for kids that are 6 and above.
Verdict On This Roostermoney Review
Now that this RoosterMoney review is drawing to a close, I hope you have a better idea about whether or not it's right for you and your child.
The app is intuitive with a bunch of features that kids of all ages can use to help develop positive money habits.
From star charts to managing chores, Rooster does a great job of pleasing both parents and kids equally.
This is very much reflected in their reviews on Trustpilot with over 700+ parents rating them as 5 stars.
When looking at paid plans, against that of competitors, they fair well considering it's a competitive market.
Its only real criticism in that regard is that the Rooster card is only available on an annual plan.
But all in all, RoosterMoney is an option very much worth considering when looking at a pocket money app for kids.
If you enjoyed this RoosterMoney review, drop a comment and let us know what you liked about it.
Equally, if you think we missed anything that should've been included, your feedback is always welcome.
Related Articles: