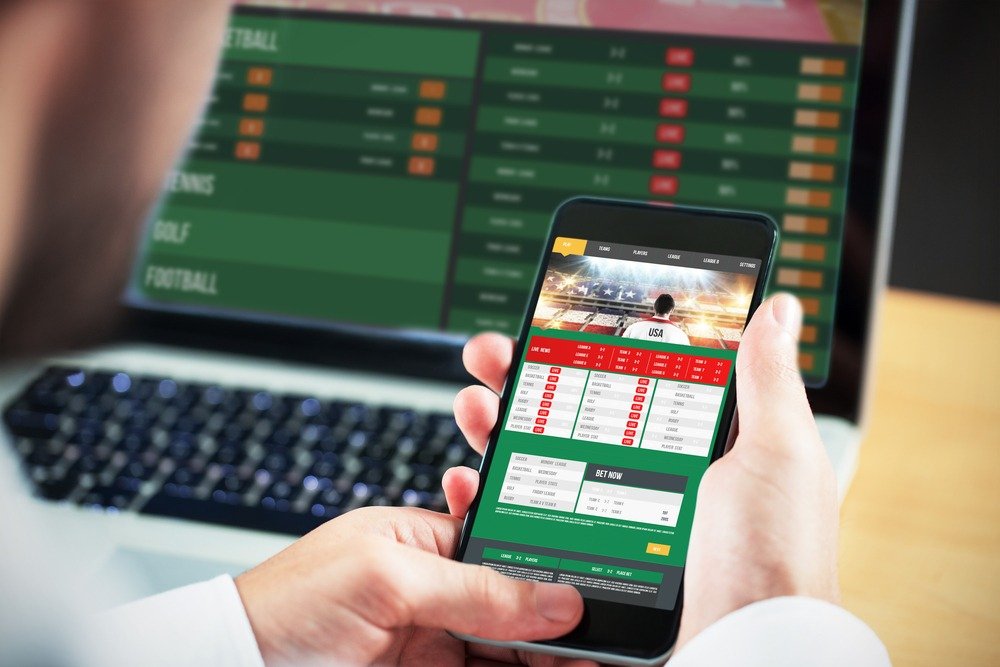 Looking for a clear and actionable no risk matched betting guide?
Well,  you've come to the right place!
I know on the surface it may sound like some shady practices that involve illegal loopholes.
However, I'm sure you'll be glad to hear that no risk matched betting is not only legitimate but 100% legal.
In fact, I'm going to walk you through the same steps and strategies I used to make just over £15,000.
But before we get started, I'm going to be honest with you, no risk matched betting is not what it used to be.
Bookies over the years have become wise to this practice and try their best to protect themselves from these 'legal losses'.
Having said that, it's still perfectly possible to make a good chunk of extra cash!
Not to mention the fact, that you don't have to do a great deal in order to make money matched betting (all will become clear).
So enough of the boring chit-chat, let's dive into this free no risk matched betting guide!
What Is No Risk Matched Betting?
Matched betting is made possible by promotions from bookies that grant people like me and you free bets.
It's from these free bets that we can obtain guaranteed profits by placing both a back and lay bet.
By covering all possible outcomes of a sporting event, there is no way we can lose.
Back Bet 
A back bet is the most common form of bet placed and simply refers to you choosing something to win.
Here's an example:
"I bet that Barcelona are going to win tonight"
If they win, guess what?
You smile to yourself because you've just won!
Lay Bet

 
If a back bet refers to backing something to win, then what do you think a lay bet is?
That's it, betting against something to win.
So for the sake of the last example, here's what a lay bet would look like:
-"I bet that Barcelona will not win tonight"
If the outcome is anything other than a win for Barcelona, then you've just made yourself some money.
If you don't yet understand it yet, try not to worry.
I created a visual representation of the process below and I'll also walk you through a live example🙂.

Copy This Code to Share On Your site
How To Get Started No Risk Matched Betting
As you may have gathered, matched betting requires access to particular sites for special calculators and an oddsmatcher.
The calculator helps determine how much money you should lay and an oddsmatcher does all the heavy lifting for you.
Not to mention purpose-built matched betting sites have databases full of promotions from every bookie under the sun.
Step 1
So your first step in getting started with matched betting is to sign up for Outplayed.
(I have personally used this site for matched betting and have been a member for almost 2 years)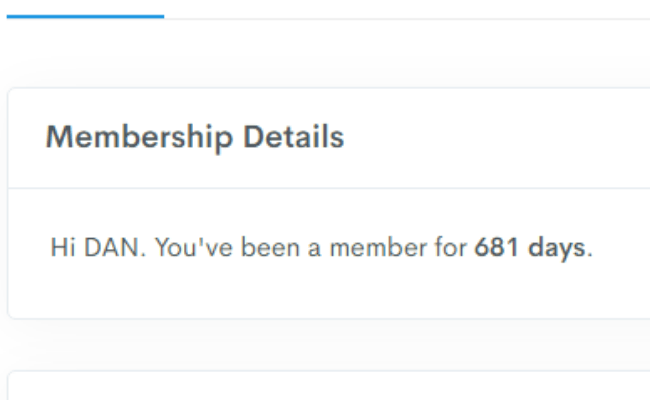 (Check out my full Outplayed review)
They provide all the relevant tools, tutorials and promotions for you to take advantage of.
Outplayed will also walk you through a few sign up offers free of charge, earning you up to £40.
To gain access to this offer, all you need to do is use the link below and you'll be well on your way to making money.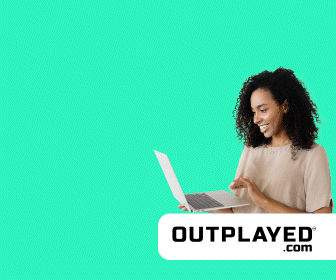 Step 2
Progress through the offers using the walkthrough tutorials until you know how to do it fluently- this shouldn't take long!
Even if it does, practically every offer has an in-depth walkthrough of how to complete it.
The quickness with which you complete the offers will depend on how much money you start with.
The more money you put into matched betting, the quicker you see the returns.
However, there are no set guidelines and you can start with as little as £50 if you wanted.
Don't move on to step 3 until your offers dashboard looks something like this!

Step 3
Once you've completed the signup offers, move on to reload offers.
They allow you to continuously earn from matched betting through additional promotions.
These are less profitable, but can still provide you with some extra cash.
Rewards vary but some bookies will opt to give you spins to spend on games like slots etc.
So you never know, you could hit a jackpot if you're feeling lucky!
But whatever you do, don't develop an addiction to these games I don't want to turn you into a gambler!
Let's stick to the guaranteed, tax-free profits okay 🙂
Example Of Matched Betting Process 
So now that you can make money matched betting by backing and laying a free bet, let's look at a live example.
First I choose a promotion that I like the look of, in this example, I'm going with William Hill's sign-up offer.
With every bookie, you need to place what's known as a qualifying bet first, because they don't just give away free bets (wink wink).
This qualifying bet will also have to adhere to certain requirements (varies from bookie to bookie).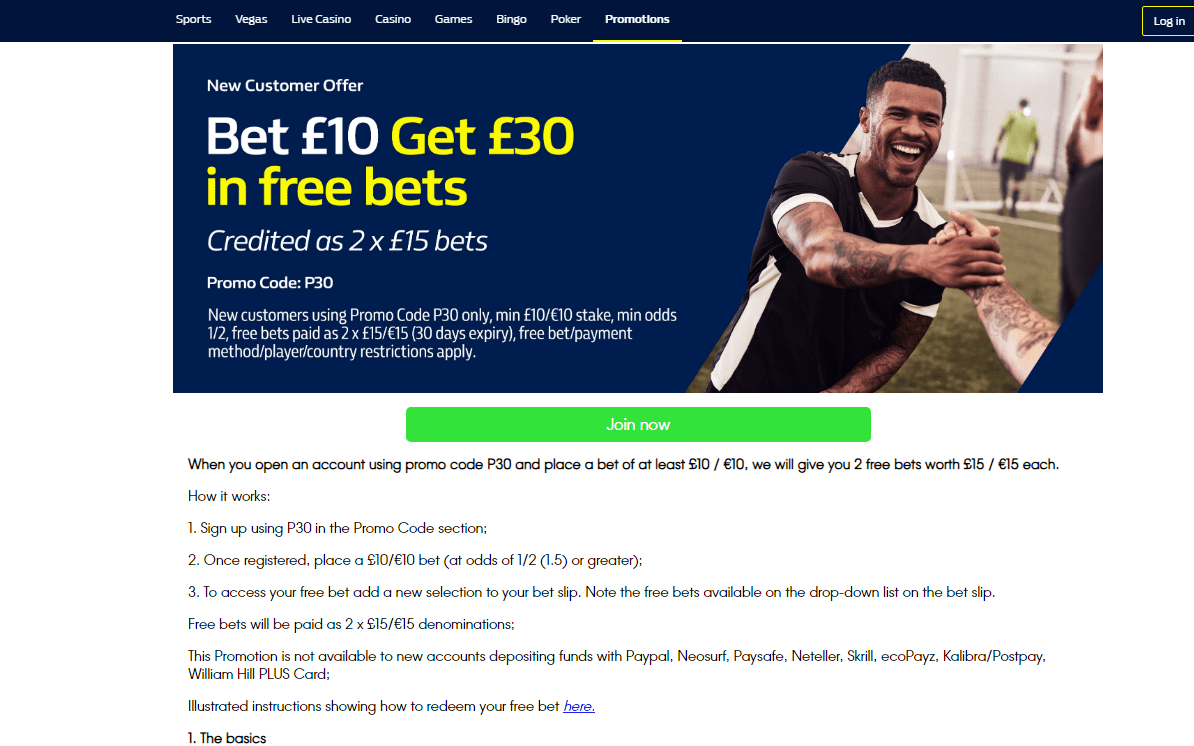 For this particular example, here are the requirements we need to fulfil:
Sign up using promo code p30

Deposit £10 using a credit or debit card

Place a back bet at odds of 1.5 or greater
So I sign up using the code and deposit £10 with a debit card.
I now need to use the oddsmatcher to find suitable events.
From the drop-down section, I select William Hill.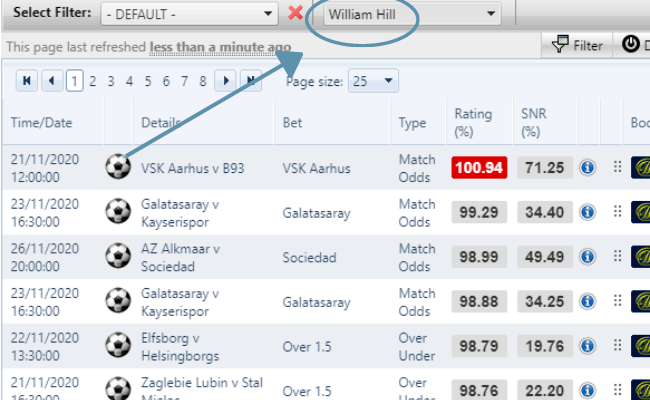 I then filter the results to show only odds equal to or greater than 1.5.
I'll then have a selection of events that satisfy the requirements for the William Hill promo.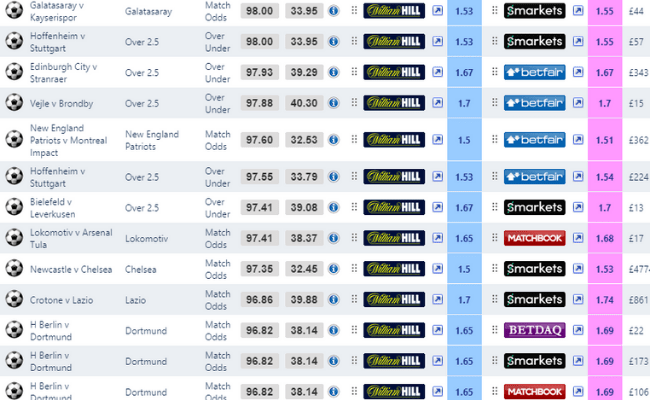 For this example, I'm going to choose the Hoffenheim v Stuttgart game.
It requires me to place a back bet on over 2.5 goals in the game.
Clicking William Hill and the exchange site, in this case, Betfair will send you to the sites.
You'll also see next to both logos you'll find the correct odds.
Blue is the back bet odds and red is the lay bet odds.
I'm now going to head over to William Hill first and choose over 2.5 goals in the Hoffenheim v Stuttgart game.
(Note: Be sure to switch the odds display on all bookmakers and exchange sites from fractional to decimal)
Once I click the correct condition, it will load into the bet slip and I input £10 as the stake.
I've double-checked the odds are correct so I'm happy to go ahead and place the back bet.
Before I go and do the same on Betfair, I need to use a lay bet calculator to work out how much to lay.
I fill in the odds, back bet stake and the exchange sites commission, which in this case is 5%.
The lay calculator then gives me the amount I need for my lay bet as well as the small initial loss we will make from the qualifying bet.
You may also notice the liability sum just underneath it, this is the amount you stand to lose.
But remember you won't lose this sum using this technique!
Now I have the lay stake, I can head over to Betfair and input the amount.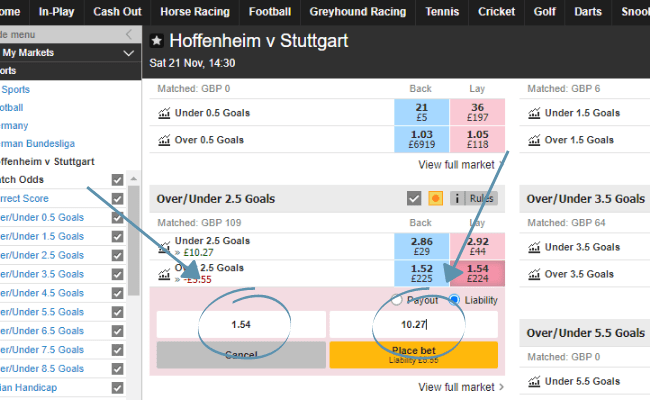 I check that all the numbers are correct and place the best.
That's it for the qualifying bet, I just need to wait for it to settle and I'll receive the free bet on William Hill.
It may seem hard to follow now, but I promise after a few goes it will be second nature to you!
For the free bet, I repeat the process but with a few key differences:
Increase the odds (extracts more profit)

Change the settings and numbers on the lay bet calculator

Use the free bet
So I found a game on the oddsmatcher with increased odds and input the numbers into the lay bet calculator.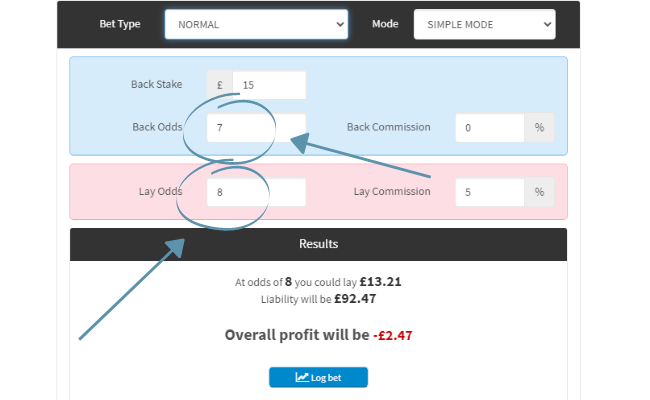 You can see that it produces a negative-sum which we need to change.
This time, because it's free money, I change the calculator setting from 'normal' to free stake not returned or FNR.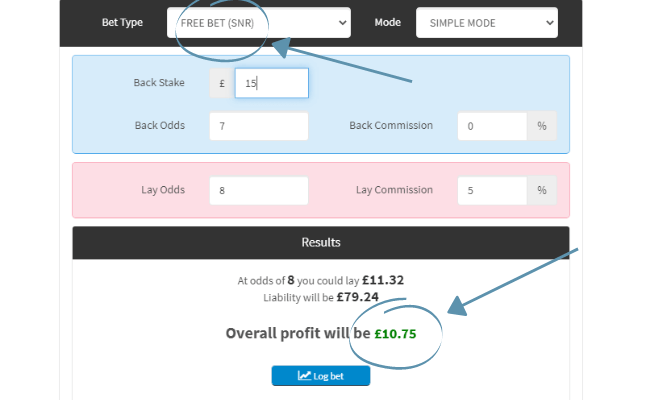 It will then produce the amount that I'm guaranteed to get no matter the result of the free bet.
Pretty cool right?
Fill in all the details in the bookie and exchange site and that's it!
You earn yourself money for essentially not doing a whole lot.
Here are the maths for this free bet example:
£10.75 x 2 = £21.50
£21.50 – 25p = £21.25
That's a pretty good return on investment if you ask me.
Imagine the sort of profits you can guarantee with larger free bets!
Matched Betting FAQS
How Much Money Do You Need to Start No Risk Matched Betting?
It varies depending on how quick you want to complete the promotions.
So the more money you start with, the quicker you'll earn.
My recommendation would be to start with around £200-300, that way you'll see a meaningful return 'right off the bat'.
What Do I Do If I Don't Receive Your Free Bet?
Give it some time, bookies have to process a lot of transactions daily and so your free bets aren't always rewarded exactly on time.
If you haven't received your free bet 2 days after the bet is settled, contact the live chat.
They are typically very helpful and will resolve the issue quickly.
Is Matched Betting Legal?
Matched betting is 100% legal unless you are signing up to betting sites and you're not over 18!
Is Matched Betting A Scam?
I would hope this matched betting guide has proved to you that it is 100% legitimate and once more, a great way to make some tax free cash.
How Quick Can You Learn Matched Betting?
Matched betting doesn't take long to master because the process is more or less the same every time. 
Just like everything in life, it may take you a few tries to get it right but once you have you'll find it easy. 
Just for reference, it took me around 4 bets with different bookies to have the process completely sussed.
Can I Open Multiple Accounts?
No this is illegal and bookies invest a lot of time and money to ensure you can't do this.
 Being caught will result in account closures and even the possibility of being banned for life.
Does Matched Betting Affect My Credit Rating?
No.
Bookmakers sometimes carry out checks if they see something suspicious however this is not recorded.
Conclusion On No Risk Matched Betting
Hopefully, now you know exactly what no risk matched betting is and how exactly you can take advantage of it using Outplayed.
This can be a great way to supplement your income!
If you liked this no risk matched betting guide, consider looking at my other posts that will help you make some money.
Related Posts:
P.s if you enjoyed this post, be sure to leave a comment or equally if you think there was anything I missed out.
Pointers for improvement are always welcome!