Since introducing my readers to the world of matched betting, I've had numerous requests to do an Outplayed review (Formally known as profit Accumulator).
I don't like to disappoint, so here we are!
But why should you trust me and my opinion?
Here is why-
I've been involved in matched betting for a number of years and more specifically, been a member of the site in question for more than 2 years.
But don't just take my word for it, here is a screenshot of my membership details.
So it's fair to say I know my way around the platform- including what they do well and where they need to improve.
Therefore this will make for the most comprehensive Outplayed review out there!
Just before we get started if you aren't familiar with the matched betting process, I recommend starting with my matched betting guide.
I say this because this will solely be a software review and not an introduction to matched betting.
If you're 100% happy about how it all works and are ready to go, we can dive right into this Outplayed review.
My Outplayed Review
What Is Outplayed?
Whilst studying at Leeds University in 2014, Sam Stoffel was making money matched betting- and a decent amount at that. 
He couldn't believe that other people, particularly fellow uni students, weren't taking advantage of this way to earn 'free money'.
It was his belief that if he could teach others how to utilise matched betting, it would catch on rapidly. 
Sam turned out to be right because after he founded Outplayed, it became a roaring success. 
Today, it is one of the leading platforms in educating and guiding its members through the world of matched betting.
It does so by listing promotions available from bookies, provides training tutorials for each and granting you access to essential tools.
Now you may have noticed the word 'members' was used because unfortunately, this service is not free. 
Having said that, monthly subscriptions come in at just £30- which is a good return on investment considering you can earn a few hundred a month. 
It should also be noted that you're able to cancel anytime and a 30-day money-back guarantee is in place to gain your trust.
So let's take a little more in-depth look at what you're getting for your money.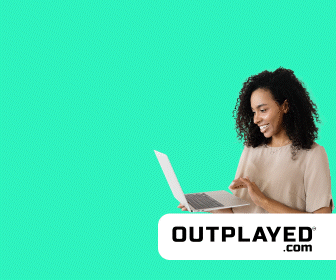 Sportbook
Promotional offers on Outplayed come in the form of either sportsbook offers, aka sign up offers, reload offers or casino offers.
It's recommended that you start with sportsbook offers first because on average, reload offers are slightly more difficult.
Therefore sportsbook offers are your 'introduction' to the world of matched betting so to speak.
So that's where we'll start first.
Every signup offer comes with a video tutorial as well as a written tutorial so you can use whatever is easier for you.
At the time of writing, there are 64 sportsbook offers for you to take advantage of.
Of those 64 offers, 36 are promotions you can use to make make money matched betting, totalling a guaranteed profit of  £457.
(Most other Outplayed reviews won't tell you that, but I've got your back)
The other 28 videos are high-quality training tutorials on topics such as:
How to maximise profit
Keeping track of your money
0% commission offers
Once you've finished progressing through the sportsbook offers, you can head over to the reload offers.
Reload Offers
We typically think of bookies only doing promotions to attract new customers.
However, it would be silly of a business to disregard its loyal users and many bookies share the same sentiment.
Their gift to us comes in the form of reload offers.
By utilising reload offers, we can make extra profits each month from our opened accounts.
No by no means are they as profitable as sign up offers but there is no reason why you couldn't make an extra £200-£300 each month.
Especially when used in conjunction with casino offers.
Casino Offers
(Note: This is no longer a diamond membership feature)
Casino websites offer many different kinds of rewards but on the whole, the most common is a certain amount of free spins.
You can take these spins and use them on selected games for a chance to win money.
These casino offers often have what's known as wagering requirements.
This is simply the number of times you have to play through the free spins before you can withdraw it.
In other words, profits are not guaranteed but you can most certainly try your luck.

Oddsmatcher
The oddsmatcher tool allows you to view upcoming events in one place and in real time- thanks to its auto-refresh function.
This makes it easy for you to choose a suitable event for your next matched bet and saves you from doing it manually every time.
The tool not only gives you the event but the odds, date, rating and the relevant exchange website.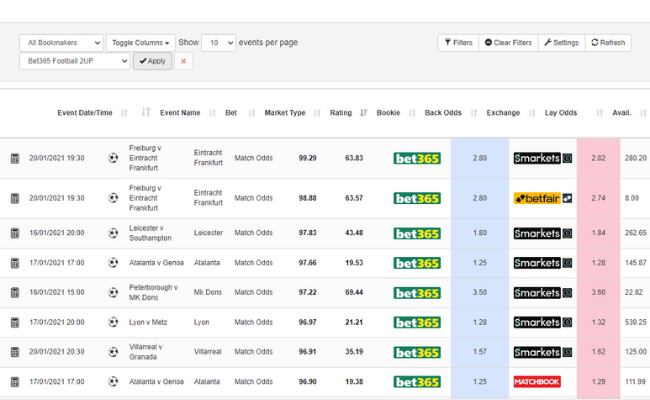 All of these details can be reduced and refined using the filters section.
As you can see from the images, the layout is clear and will only take a few uses before it becomes second nature.
Outplayed has recently developed a whole new oddsmatcher feature and this will be set as default.
What's nice is that they have given the option to use the old version for longtime subscribers.
(These screenshots are from the old version)
Both do the job and you could choose for yourself which one you like more.
Calculators
Matched betting is often described using the phrase 'mathematical equations'.
It's basically a betting style that locks in profit as a result of the formulas and thus negates the need for chance.
Now I don't know about you but I wasn't ever any good at maths and I certainly don't want to write formulas for each bet.
Thankfully you don't have to as Outplayed has special calculators that will do all the heavy lifting for you.
For the majority of your matched bets, you'll only be using one type of calculator, but it's handy to have the rest there if you need them.
You'll also be pleased to hear that many of the tutorials take you through how to use the calculators step by step- so it's super simple.
Matched Betting Forum
Outplayed proudly advertises the fact they have the biggest matched betting forum in the world.
You'll find hundreds of threads on everything from how to make £1000 a month to additional reload promotions.
I've posted a few questions to the community and they have always been very helpful and informative.
Matched bettors of all experiences can be found there so you won't feel like the odd one out either.
I recommend before you have a look around check out their tutorial on how to navigate your way around their forum.

Profit Tracker
After calls a few years ago for a profit tracker, the company delivered what its members wanted.
This feature allows users to track bets easily and cleanly, reducing the hassle that would be involved in doing it all manually.
It's seamlessly integrated into the website and can be used to great effect throughout your matched betting journey.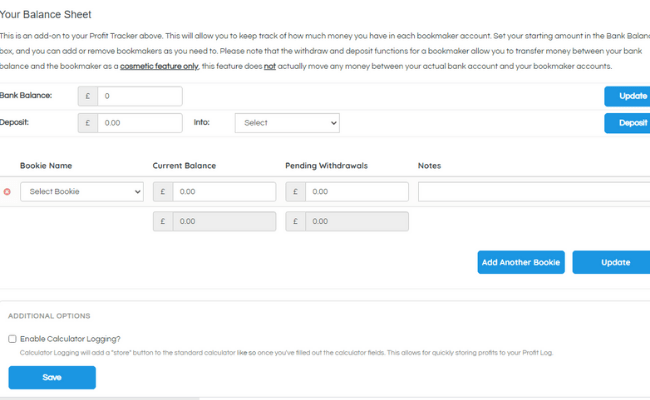 As you can see it's easy to navigate and comes with some additional features such as:
Visualise earnings
Import from calculators
Filtering options
It's a simple idea but once you use it you won't be able to do a matched bet without it.
Customer Service
Aside from guidance in the form of training tutorials, Ouplayed has a customer support network.
Support is available to you 7 days a week which is extremely handy for people who only have the time to do matched betting on the weekends.
Opening and closing hours look like this:
Monday to Friday- 9 am to 6 pm
Saturday to Sunday– 10 am to 5.30 pm
You have the option to contact them via phone or create a ticket that can be addressed over email.
Anytime I've needed customer service in the past, albeit for trivial things, they have always managed to answer me.
Having said that, customer service is always subjective and no doubt there are users out there that have had a bad experience.
Thankfully the quality of the training videos and the simplicity of setting up an account reduces most people's need to contact them.
It's also worth noting that the forum may prove useful to you for more specialised or specific questions you may have.
So bear that in mind if you find yourself in that situation.
Diamond Membership
Outplayed has just recently bought out a new membership option for matched betters, known as their 'Diamond membership'.
But what's the difference between the two?
Here is a look at the plans side by side:
| | Platinum Membership | Diamond Membership |
| --- | --- | --- |
| Price | £29.99/monthly | £49.99/monthly |
| Sportsbook Access | ✅ | ✅ |
| Daily Bookie Offers | ❌ | ✅ |
| Casino Access | ❌ | ✅ |
| Daily Casino Offers | ❌ | ✅ |
| All Software Access | ✅ | ✅ |
| All Tool Access | ❌ | ✅ |
| Customer Support | ✅ | ✅ |
| Forum Access | ✅ | ✅ |
| Casino Forum Access | ❌ | ✅ |
| 30-Day Money Back Guarantee | ✅ | ✅ |
| Cancel Anytime | ✅ | ✅ |
So as you can see from the comparison above, the diamond membership has added casino content.
Outplayed states the new content's offers add up to around £2300 in expected value.
It's worth noting that casino offers did use to be a part of the platinum membership, just in a lesser form.
Outplayed Reviews
As with all of my reviews I like to include the opinions of others to arrive at a more well-rounded conclusion.
This Outplayed review is no exception.
Enlisting the help of Trustpilot we can see Outplayed has an overall score of excellent from over 2,000 reviews.
Positive reviews include comments such as:
Good service, worth a go
Easy, quick and profitable
Great opportunity to earn extra money
The majority of the negative profit accumulator reviews revolve around problems with customer service which is to be expected.
Success Stories
Over the years matched betting has increasingly become more difficult to make decent money from.
That doesn't mean to say that if you put the work in you couldn't, it's just harder than it used to be.
Matched betting as a whole has had many success stories, particularly through established platforms like Outplayed.
In fact, the site even has its own dedicated clubs in the forum including:
£100 club
£500 club
1k club
You won't find stories of Dave from the local pub making 10k from his last matched bet but you will see people reaching some good numbers.
Outplayed often posts examples in their news section, as seen below.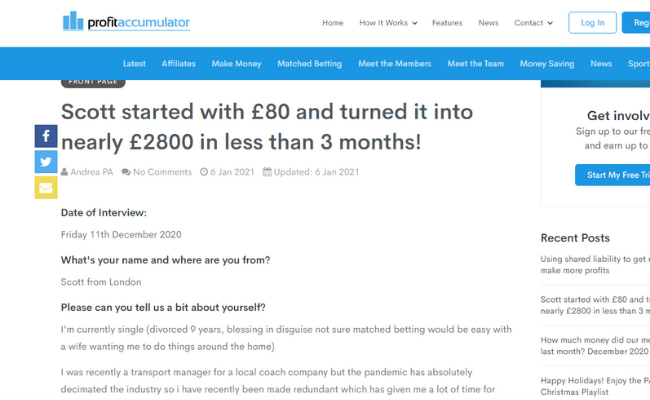 Outplayed v Odds Monkey
As with every business, you're going to be in competition with someone else.
In the matched betting space, Oddsmoneky is considered a key rival of Outplayed.
Not only are they the two best-matched betting sites in my opinion, but in terms of the numbers, they are also the biggest.
Having used both I would lean towards Outplayed due to the fact they have slightly more offers and a larger forum.
However, I can understand why people are attracted to the Oddsmonkey platform.
Not only is it slightly cheaper (24.99/month) but more extensive when it comes to areas such as horse racing bets.
The good news is they both offer free trials so you can try out both and see which one you like better.
FAQS
Does Outplayed Work?
Yes, Outplayed will help you make money matched betting and is a service I've used for over 2 years.
Is Outplayed Legit?
Outplayed is 100% legit and is arguably the best-matched betting site in the Uk.
How Much Is Outplayed Membership?
Platinum membership: £29.99/monthly or £250/annually
Diamond Membership: £50/monthly or £450/annually
How Much Can You Make From Outplayed?
The average user probably makes in the region of £300-£600.
Is Outplayed A Con?
No, Outplayed is actually very good value for money in comparison to most things in today's day and age.
Final Thoughts On This Outplayed Review
Now this Outplayed review is drawing to a close, I hope you have a much clearer picture of where you stand.
For me, Outplayed is easy to navigate and has a clean interface.
They provide great quality tutorials and a whole host of offers, making it one of the best-matched betting site out there.
Not to mention the fact it offers a free trial and an affordable monthly rate if you choose to carry on matched betting.
If you enjoyed this Outplayed review, consider checking out some of my other related articles.
Be sure to check us out on socials if you are interested in staying up to date with what we post on The Money Equation.