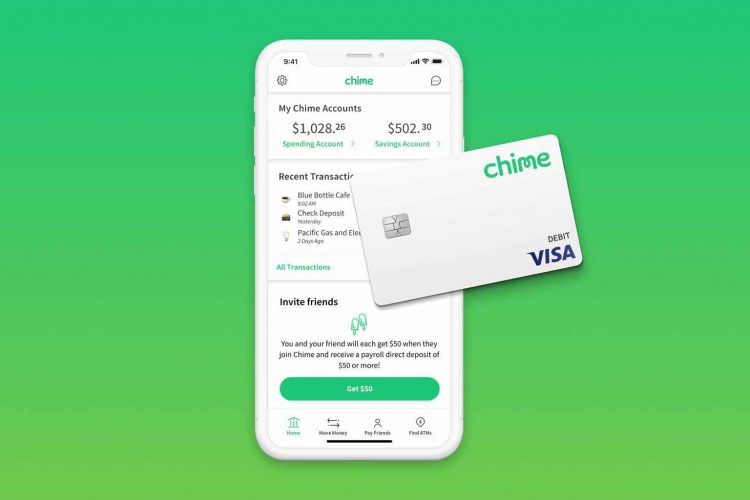 If you're considering opening a new checking or savings account through Chime, it's a good idea to explore Chime reviews from previous customers.
That way, you can work out whether there are risks when using their services or whether Chime is the new go-to option for personal checking and savings accounts.
Chime has been disrupting the world of American personal finance over the last few years, with a user-friendly app and attractive, no fees for checking and savings accounts, among many other free and helpful benefits.
Let's check out a summary of the best customer Chime reviews and answer your burning review questions about this innovative new provider.
How Does Chime Work?
Chime works like this:
The service is accessible. With Chime, you aren't inundated with millions of account options and instead have a checking account, a savings account, and a VISA debit card.

Chime is online-only, so you log in through the Chime app and deal with all your transactions there.

You can make purchases with your Chime debit card, use your checking account as usual, and send checks through the Checkbook app. 
One of the big bonuses is that transfers are completely free (yes, that's not a typo!).
That means greater security without needing to use third-party providers to send your cash from one account to another.
Why Should I Trust Chime: Is It Secure?
Chime focuses on safety as a top priority for customers — it's all about customer support, efficiency, and making personal finance as pain-free as possible.
Traditional banks cause no end of headaches, with limited ATM access, crazy fees for every activity, and the hassle of having to visit a physical branch.
Chime is the new kid on the block to consider and a secure alternative that rethinks the whole model of personal finance.

What Are Chime's Safety Benefits?
Chime's safety benefits include:
Full FDIC insurance, provided through their partner banks, so you're covered up to $250,000.

Encrypted login details and in-app security.

Access to industry insider advice when new banking scams begin to circulate.
Read through the helpful Chime reviews and you'll come across countless customers who have mistakenly given out their security details.
This is why it's vital to be on the lookout for scammers, no matter who you bank with!
Chime is a market-leading digital finance platform, and they're on it when it comes to protecting your money and accounts.
Been a victim of fraud? Fallen for a scam? Don't worry, report the incident to Chime and they'll put your money back into your accounts — usually in just a few days.
Is Chime An FDIC Insured Bank?
Yes, Chime is FDIC insured through their banking services partners.
This insurance is backed by the government and protects your finances up to $250,000 per person, per bank.
Security is all-important, and you need to know you can trust Chime to safeguard your savings and accounts.
Chime's security credentials are solid, and you can confirm that through the numerous glowing Chime reviews.
If you have any safety concerns with Chime, you can contact customer support through the Chime app or over the phone, and you'll get the same robust security support you'd expect from a conventional bank.
What Legitimacy Does Chime Offer?
Let's clarify Chime's benefits.
First, it's a legitimate, secure, and well-established Fin-Tech company, with all the appropriate safeguards and security protocols required when dealing with people's money. But Chime doesn't stop there.
Interest rates sit at the top of the pack, with the APY on their savings accounts well above the rate offered elsewhere.

Chime customers can draw cash from over 38,000 ATMs (still zero fees!) with the Alliance ATM and MoneyPass networks.

If you're stuck and need to use any other ATM, you're golden. The Chime charge is a minimal $2.50 — blowing typical ATM fees out of the water.
Credit Card Use, Overdrafts…What Other Fees Does Chime Charge?
Chime's not going to charge you for any of the usual things that make banking such a pain. That includes monthly account "service" fees or fees for not hitting the minimum deposit balance.
Overdraft fees: nope.

Monthly Chime account fees: zip.

International transfer fees for debit or credit transactions: nil.
You get the idea — every positive Chime review says the same thing about their zero fees policy and showcases why this customer-first approach draws thousands of new people to the app, making life, well, simpler!
Is It Risky To Use Chime?
In short — no.
Your money isn't at any risk with Chime since it's defended by a fat firewall of security, full encryption, and backed by FDIC insurance.
The majority of Chime reviews mention getting a refund if your account experiences fraud, so let's explain how that happens:
A person gets a spam text or call saying their account has been hacked.

They provide their Chime login details, blissfully unaware the person on the phone is scamming them.

This scammer drains their online accounts, logs off, and goes about their day.
So what happens next?
You contact Chime, report a claim, and they'll refund your money.
It really is that painless and always should have been! And of course, next time you get a suspicious mobile text, log in to your Chime app directly or call customer service to have it verified as authentic before handing out your login details. 
Chime Review Conclusion 
While no company is perfect, it's clear that for Chime's happy customers, they've found the product that fits their needs.
Now that you know more about what Chime offers and what previous customers have had to say about their Chime experience, do you think a Chime checking or savings account is the right fit for you?
Let us know in the comments. 
Related Articles: