Oakley Neil H T Caesar-Su, better know by his stage name Central Cee, is an English musician who was born on the 4th of June 1998 in Sheppard's Bush, London.
Central Cee has made a name for himself, particularly in the last year for his contributions to the Uk rap/grime community.
Given all this, just what is Central Cee net worth?
Central Cee Net Worth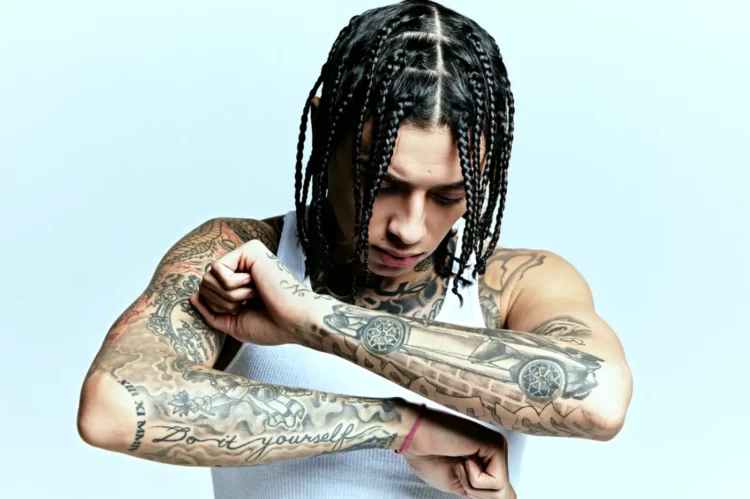 Central Cee net worth has come predominantly from his career in the music industry.
Musicians make money through record sales, streams, live performances and record deals.
Central Cee net worth is estimated to be between 2-3 million pounds.
General Facts About Central Cee
| Net Worth | 2-3 Million |
| --- | --- |
| Nationality | English |
| Occupation | Musician |
| Height | 5ft 10 inches |
| Born | 4th June 1998 |
| Died | N/A |
| Age | 23 |
Central Cees Biography
Central Cee was born on the 4th of June 1998 in Shepard's Bush London to an Irish mother and Guyanese father.
From a young age, Central Cee's musical influence would come from his father who would listen to rap, reggae and dancehall.
He kept to himself at school but was never really interested in his education.
The main motivation in his life would be his passion for music instilled by his father and as result, began to produce music from 14 onwards.
He would first appear on the remix 'It Ain't Nuttin' with J-Hus and not long after came his adoption of the stage name Central cee.
That same year, he would also go on to drop his 'Streetheat' freestyle.
The first EP he would drop was entitled '17' and included songs such as 'Am' and 'Do you believe'.
However, it wasn't until Central Cee adjusted his style to something that closely resembled drill music, that he'd start to gain more notoriety.
His breakout single would have to be'Day in the life' but was quickly followed up by one of his most well-known songs to date called 'Loading'.
Both were produced and released by GRM Daily to great effect amassing over 150,000,000 views collectively.
Following this in 2021, he would release his first mixtape 'Wild West' which debuted at the number 2 spot in the Uk official chart.
Later that year he dropped the track 'Obsessed with you' which reached the number 4 spot in the charts.
It would feature as the main song for his second mixtape '23' which was released in February of 2022.
Other songs included in the mixtape included 'Khabib' and 'Ungrateful'.
In December he would drop the song 'Let her go' which was a sample from a song originally from the artist 'Passenger'.
To round of 2022, Central Cee became the first ever Uk rapper to reach over 1 billion listeners in a year on Spotify.
FAQS
What Genre Is Central Cee?
Hip Hop/Grime.
Does Central Cee Do Drill?
No, his style is not consistent with those in the drill industry.
What is Central Cee's real name?
Oakley Neil H T Caesar-Su.
Who is Central Cee signed to?
Warner Chappell Uk.
When did Central Cee drop 23?
25th of February 2022
Conclusion On Central Cees Net Worth
Central Cee rose quickly to fame over this past year and deservedly so.
He brings a different style to the Uk music industry that is fresh and appealing to a large audience.
Not only is he loved here but overseas he's amassed a cult following through platforms like Youtube and Spotify.
With all this success came a dramatic rise in his net worth to around 2-3 million pounds.
It'll be interesting to see what he gets up to next in the music industry.
Below you can find some similar articles from other musicians.
Related articles: