Big L Net Worth

Lamont Coleman, better known by his stage name Big L, was an American rapper from Harlem, New York.
He was perhaps best known for his unique style and flow which quickly built him up a cult following from his debut album onward.
Money was always a reoccurring theme in L's music, which begs the question of what was Big L net worth before he died.
Big L Net Worth
Big L net worth came predominantly from his career in the music industry.
Musicians earn money through contracts, record sales and live performances.
Big L net worth before he died was estimated to be between 2-3 million dollars.
General Facts
| Net worth | 2-3 million dollars |
| --- | --- |
| Occupancy | Rapper, label owner |
| Nationality | American |
| Height | 1.73 m |
| Died | February 15th 1999 |
| Born | 30th May 1974 |
| Age | 46 |
Life
Lamont Coleman, better known by his stage name Big L, was an American rapper born on the 30th May in Harlem, New York.
From a young age, Lamont was not afraid to show off his freestyling ability which helped him make a name for himself in the streets of Harlem.
As a youth, he was referred to as little L, which would later play a role in determining his stage name.
Lamont would get a break when he would go to an autograph signing session with Lord Finesse.
He would drop him a quick freestyle in which they would exchange numbers after impressing him.
After graduating from school Big L would set about writing rhymes in 1990 for a living.
He admitted in his black box freestyle that before he got a record deal, he was very close to quitting.
1992 would prove to be pivotal in his career, for it was when he would sign with Columbia Records.
Not only that, but he would join the group D.I.T.C which included the likes of Lord Finesse, Fat Joe and O.C.
In 1993 Big L would drop the song 'Devil's Son' which would become synonymous with his style, horrorcore.
Over the next year, he would drop on of his most famous songs 'Put it on' as well as 'No Endz No Skinz' which would be a standout piece for his upcoming debut album.
Lifestylez Ov Da Poor And Dangerous was released in March 1995 and was well-received.
It would reach the number 22 spot in the Hip Hop albums chart.
The next stage in Big Ls career would be his departure from Columbia Records over disputes regarding his rap style.
Lamont would get over it by doing what he does best, producing music.
He would start to work on his second album in 1997 'The Big Picture'.
Around the same time, he would create his own independent label entitled 'Flamboyant Entertainment'.
It would be through this label that he would produce his whole album.
It would feature the likes of Fat Joe, Tupac and Guru.
His song 'Ebonics' released in 1998, which would appear on 'The Big Picture' would get the attention of the owner of the Roc-A-Fella records.
It was leaked later down the line by Jay Z, that the label was just about to sign him and said it was a 'Done deal'.
Unfortunately, the talented rapper's journey would come to an end on the 15th February 1999 when he was shot no less than 9 times in the face and chest.
Speculation about the reasons he was murdered still circulate but none have been confirmed.
Having said that, it's widely accepted that it was his childhood friend Gerard Woodley who killed him despite never being convicted.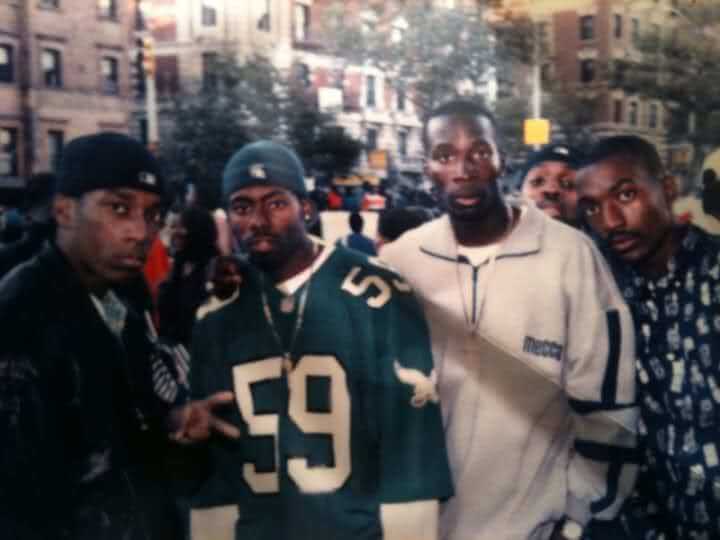 (His killer is on the far right)
Friends and fans of Big L would carry his memory with the help of his music.
Since his death, many previously unreleased songs have been dropped as well as a few albums including 'Return Of The Devil's Son'.
Conclusion On Big L Net Worth
Big L managed to turn his life into one of a successful rapper despite his challenging surroundings.
His style and flow made him unique and helped him develop a cult following.
For this, Big l net worth would skyrocket in comparison to his early years before he was signed.
Today Big L's music is still widely listened too and old music of his continues to roll out in his memory.
If you enjoyed this post on Big L net worth, be sure to check out net worth of celebrities articles if you haven't already.
Some posts you may like:
As always be sure to leave a comment if you enjoyed it or equally if you think I missed anything out.
If you are interested in learning more about big L, check out his Wikipedia.
Disclaimer: All care has been taken to ensure that facts and figures surrounding said individual are correct and accurate