In this complete review of Bluehost, I analyse all aspects of the hosting platform.
I've set up a few blogs in the past using Bluehost as the hosting provider so I'll be sure to include my personal experience.
(If you want to know how to create a blog using Bluehost, click here)
I'll also be including its pro and cons as well as a unbias judgment at the end.
Without any further ado, let's get into this review of BlueHost.
Brief History Of Bluehost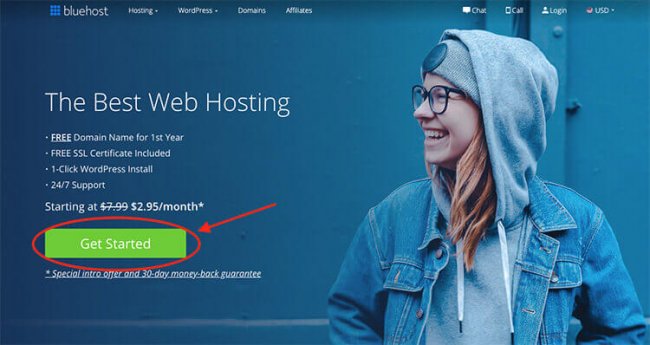 I can't do a review of Bluehost without telling you a bit of the backstory.
BlueHost was founded by Matt Heaton and Danny Ashworth in Utah, and it belongs to the Endurance International group of company.
They have a good reputation in the hosting industry and have continued to serve many users with their discounted prices and great quality.
In terms of their target market, Bluehost typically attracts people who are new to the world of hosting.
As a result, BlueHost is now one of the most popular hosting service providers in the world.
Features
Perhaps the most important part of this review of Bluehost is what the platform offers.
As you can see from the image below, Bluehost offers 3 standard package options.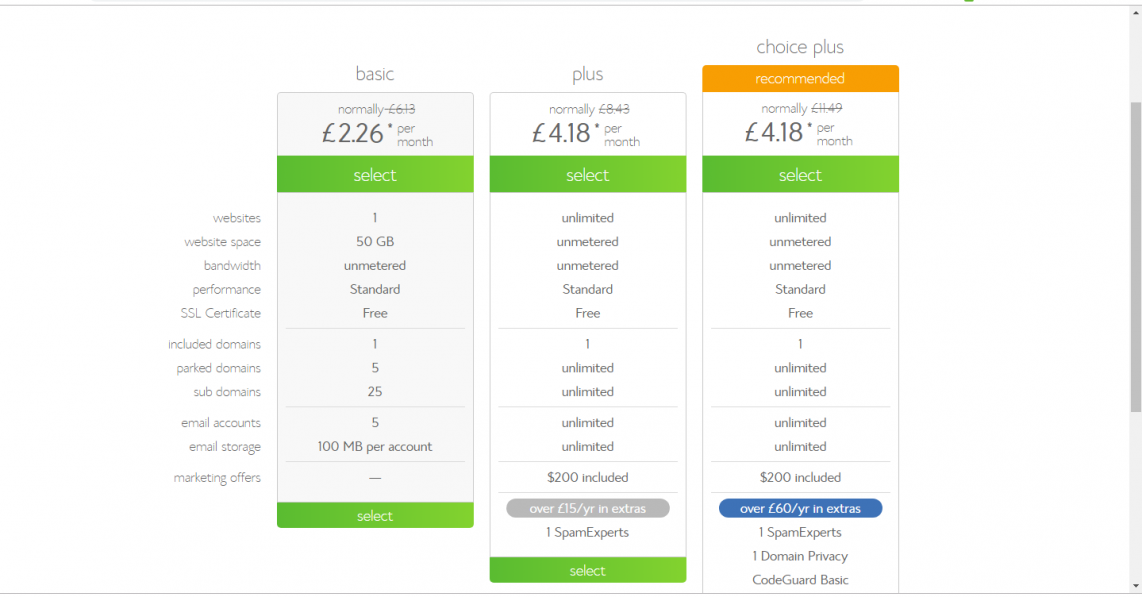 The Basic Features of all BlueHost plans is a Free Domain, Free SSL certificate, 1 Click WordPress Install, 24/7 Support and a 30-day money-back guarantee.
Thumbs up so far.
Next, In this review of Bluehost, I want to make it very clear that the platform excels when it comes to value for money as you can see.
The features, when compared to the price, are very reasonable.
Not too mention, you can normally find a discount on top of the current price.
(BlueHost also offers different types of hosting including Shared Hosting, VPS Hosting, Dedicated Hosting, and a special WordPress Pro plan)
Security
In this BlueHost review, we are going to first examine security.
You'll be glad to hear that security is one of BlueHost's strong points.
Being one of the biggest hosting providers in the world they need to have great security in place for the sites they host.
Bluehost comes with not 1, not 2 but 2 anti-spam filters to protect your sites from hackers etc.
Passwords and your inbox are protected as standard with most sites in today's age.
In terms of protection daily, BlueHost uses Sitelock which monitors your site across the day to protect is from viruses and malware.
Not to mention BlueHost also offers one-click installation for software like Cloudflare which have additional security features.
From this, it's fair to conclude that on the whole, your site will be safe and protected.
Bandwidth
Next up in this BlueHost review is bandwidth.
Bandwidth simply means the data rate supported by a network connection or interface.
This is vital for sites as it means you can keep things such as videos and infographics on your site.
You'll be pleased to hear that all BlueHost plans come with unmetered bandwidth.
This essentially means that you have as much as you want.
However, BlueHost does state 'we do require all customers to be fully compliant with terms of service and utilise disk space and bandwidth in a manner consistent with the normal operation of a website'.
This simply means, don't take the piss.
Customer Service
Moving on now to customer service in this BlueHost review.
Customer service is a very subjective experience so I'll be sure not just to include my own but others.
Good customer care involves answering your questions thoroughly, speed, being polite, solving the problem and having good communication skills.
I say it's subjective because it depends on how much weight you place on these aspects of customer care.
First, in my experience, I found BlueHost customer care to be somewhat disappointing.
I say this because I found them to be so inconsistent.
The harder the problem the less likely they were to solve it.
When you are one of the biggest hosting providers, you need to nail this.
However, I would like to say I couldn't knock them in terms of politeness.
From the research I did into the common viewpoint online, I found that many people shared the same experiences as me.
BlueHost, on sites like Trustpilot only had a customer service score of 1 and a half stars at the time of writing.
It seems as though improvements need to be made on this front but of course like I said prior, everyone's experience will be different.
Speed
Speed is an important part of every website.
Why?
Because no one likes a slow loading site.
Neither do search engines, meaning that your rankings on Google will be affected by how fast your page loads.
So it's undoubtedly important.
When it comes to speed, at least with some of my prior sites that BlueHost have hosted, they have loaded well.
It can be hard to draw conclusive results from testing your site speed as many other factors come into play that affects your loading time.
Factors such as photos, videos, widgets, caching and even text impact your loading time.
On the whole, I never had too many concerns about the speed of BlueHost, however, there are many faster-hosting providers out there.
(My site is currently hosted by Kinsta)
Uptime
The last important factor I want this talk about in this BlueHost review is uptime.
Uptime is simply the amount of time that a server has stayed up and running.
This is usually listed as a percentage.
It's a great indicator as to how well the hosting providers handle their systems.
According to Hostingfacts.com, BlueHost has the best uptime score over the past 12 months.
Coming in at a percentage of 99.99%, that's 2 hours in total for the whole of last year.
You can see this in the image below (courtesy of Pingdom).
Now we've covered the important bits in this review of BlueHost, let's move onto the pros and cons respectively.
Pros
Some of the great features of BlueHost as a hosting platform include the following:
Easy to use: BlueHost is simple to use for the average user. The plans are easy to understand, and their system is easy to explore.
WordPress users: WordPress is the most popular website builder for good reasons. BlueHost has great integration with WordPress with the one-click installation, the different other features and even a hosting plan dedicated to WordPress users.
Security Features: BlueHost has excellent security features like SSL Certificate to protect you in the web space.
Cheap: BlueHost offers one of the lowest prices for the quality it provides.
Email Accounts: The basic shared hosting plan still comes with five email accounts and 50GB of storage.
Unmetered Bandwidth: Every BlueHost hosting plan comes with unmetered bandwidth
Free Website Scripts: BlueHost has free website scripts ranging from Joomla, Drupal, Social network-scripts, mailing list, and blog support scripts.
Best uptime score as of the past year.
Cons
Speed: Even with the Cloud Fare Content Delivery Network (CDN), Blue Host is behind many of its competitors when it comes to speed.
Inconsistent Customer Support: On some occasions, the customer support is excellent. On many other occasions, customer support can be crappy and unhelpful
Upselling: As a result of the low prices, there are always constant upsell adverts that can become irritating.
Final Thoughts On This Review Of BlueHost
Now onto the conclusion in this BlueHost review.
BlueHost is one of the hosting providers with great value for money.
They offer excellent prices and many easy to use features to improve your experience.
They also have plans to cater to the needs of different buyers.
If you are just starting and you need a reliable hosting provider, Blue Host is a great choice.
Plus, it has more than 15 years of excellent service delivery to back up its fame.
If you have any thoughts or feelings about this review of BlueHost, be sure to comment on them below.
Check out more about software product reviews articles for more read.