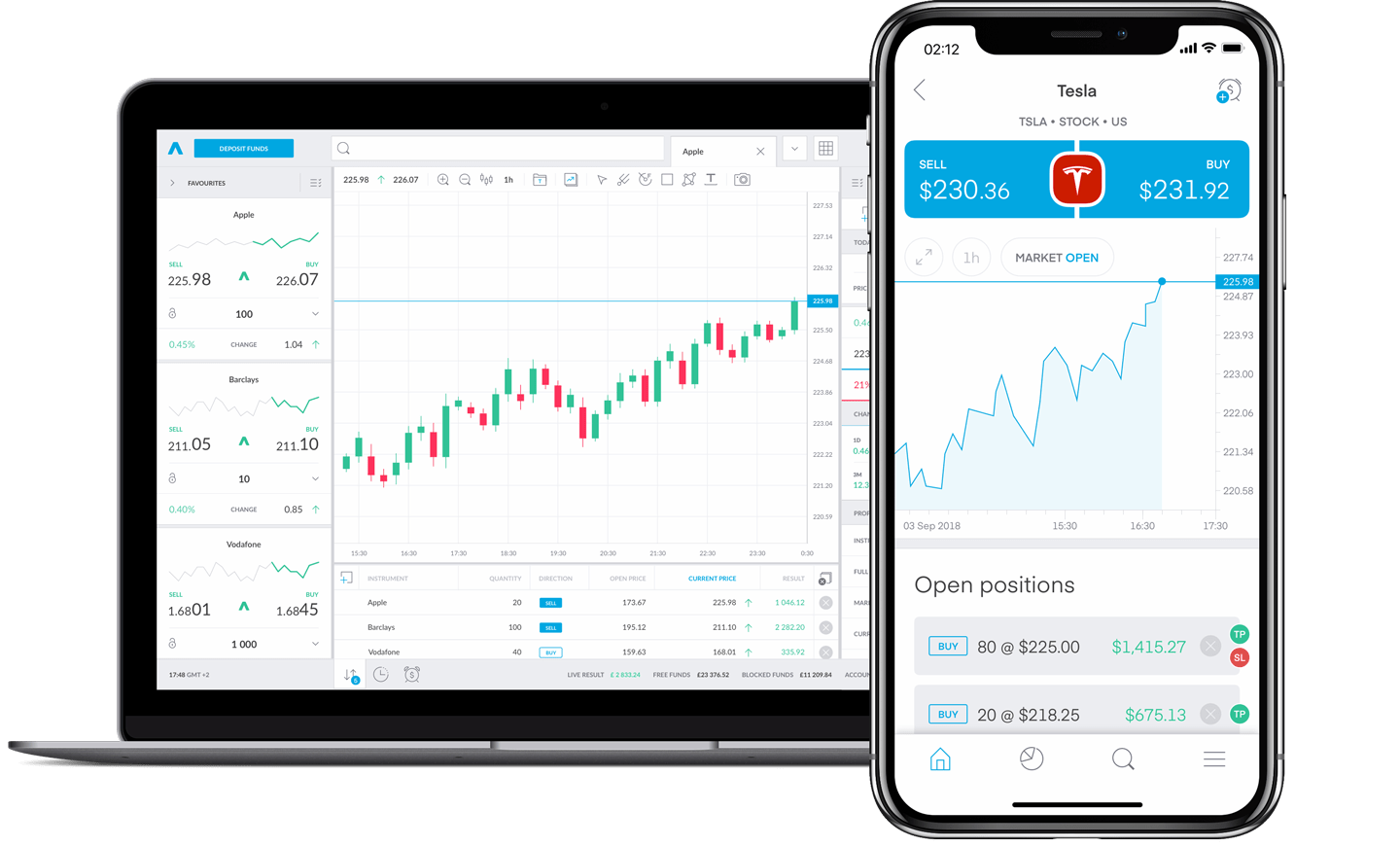 With all the commotion that is going on in the investment world as of late, many of you have asked for a Trading 212 review.
You should know by now that I never like to disappoint my readers, so here we are!
As always, I'll do my best to keep the technical jargon to a minimum and ensure that all the information is accurate.
With that being said, let's get straight into this Trading 212 review.
What Is Trading 212?
Trading 212 is a London-based fintech company that started out with the goal to democratise the financial markets.
In other words, they wanted to make investing more accessible for people like me and you.
They were able to do this by providing a zero-commission stock trading service, the first of its kind in Europe.
Before Trading 212, in Europe at least, you could face a small list of fees for trading financial products.
A list that was costly enough to keep the majority of the public away.
So as you can imagine, Trading 212 was welcomed with open arms and has been growing ever since.
Here are a few notable accolades that support this:
Trading 212 has been the UK's most popular trading app since 2016
It's been the most popular in Germany since 2017
More than 14 million mobile app downloads
700,000+ subscribers on Youtube
From this, I think it's fair to say that Trading 212 is one of the Uk's favoured investing platform.
Favoured it may be, but exempt from criticism it is not- for reasons we'll get into next.
Recent Trading 212 News
This section is updated as frequently as possible with all recent news relevant to this Trading 212 review.
GameStop And AMC
With the world of finance forever welcoming new investors with open arms, volatility within the market is present now more than ever.
Think about it like this, more money in the market equals more movements.
It's a simplified analysis but one that will help give some context to the events that played out.
The situation I'm referring to has to do with these two publicly traded stocks in particular:
Now without boring you too much with the facts, both of these stocks had dived due to the impacts of the pandemic.
They were then both picked up by a group of investors who thought they were undervalued- word soon spread.
Before long, social media platforms, particularly Reddit and Discord were starting to 'feel the hype'.
This hype prompted a large influx of buy signals and ultimately, a significant rise in each companies stock price.
As a result, many hedge funds that shorted the stocks lost a significant amount of money.
So in this particular instance, many people felt like the roles had reversed between big corporations with big money and the average investor.
It's a prime example of a 'power to the people' moment.
(For a more in-depth account, I recommend this article by the New York Times)
But what does this have to do with the investment platform Trading 212?
Well due to the significant increase in the trading volume of a select few stocks, Trading 212 blocked users buying these stocks.
Below is an example of the message Trading 212 sent out to its users.
Trading 212's justification for the blocking of buy orders was due to restrictions that had been put in place by their execution intermediary.
This is in place to ensure the best possible execution for their clients.
Factors that are taken into account include:
Price
Cost
Size
Likelihood Of Execution And Settlement
Other Relevant Considerations In The Execution Of An Order
To me as an onlooker, this seems like a fair and sensible restriction to uphold.
As a business, it's in your best interests to keep your clients happy.
(Note: If you'd like to know more about Trading 212's execution policy, click here)
Having said that, I can understand the frustrations of traders who were invested or planned to invest in AMC and Gamestop.
Such traders felt like:
They Weren't Trusted Enough To Make The Right Decisions
Market Manipulation Was As At Play
Inadequate Time Was Given Before The Block Was Introduced
We can get a better picture of these opinions when we move on to the Trading 212 reviews later.
For now, let's move onto the next important piece of recent news.
Conversion Fees
From 3/04/2021, an fx conversion fee of 0.15% will take effect in General Investment Accounts and ISAs.
That means that all stocks and ETFs that are quoted in different currencies from your account's currency will be subject to the charge.
Now although this charge is one of the lowest in the industry, it does technically mean that Trading 212's investing experience is no longer free.
For already existing positions, this fee will take effect exactly a month after (3/05/2021), giving you a period to close positions fee-free if you wish.
Next up in this Trading 212 review, we are going to take a look at what the company has to offer.
Account Types
When it comes to what type of account you want, you can choose from the options below.
A Stocks & Shares ISA is a tax-efficient way to invest in publicly traded companies.
Currently, you are allowed to invest up to £20,000 a year in a stock and shares ISA without having to pay tax on any of your returns.
Here are the main points you need to know concerning this product:
Commission-free trading
Withdrawals take 2 business days
Trade-in euros, pounds and dollars
Set up direct debits (£10 minimum)
Related: Best Stocks and Shares ISAs
General Investments Account (GIA)
GIA or Trading 212 invest as it's known on the platform, is often used for investors who have reached the £20,000 limit on their ISA.
It's similar to ISA, but has a few key differences:
GIA are subject to tax after you surpass your capital gains allowance (£12,300)
GIA have no deposit limits
Wider variety of stocks to choose from
CFDs
CFD simply means contracts for differences.
These are investments that pay the difference in the settlement price between the opening and closing trades.
Investment vehicles that can fall into this category are:
Forex
Indices
Commodities (silver, oil Etc)
Trading is commission-free aside from a small charge of 0.15% for conversions into different currencies.
It's worth noting that CFD's are typically reserved for experienced investors.
If you are fairly new to investing, you probably won't be using this account type much to start off with.
Safety measures are put in place for those users who are active on CFD accounts but statistics show that 76% of people lose money.
Trading 212 Features
Trading 212 has a list of features available on the platform.
Therefore it's only right we cover all of them in this Trading 212 review.
I'll also show you how to access each of them via the app so you get a feel for the layout of Trading 212.
Pies
Pies essentially allow users to own up to 100 securities.
These securities, comprised of ETFs and stocks, will each make up a portion of the pie.
Here is an example-
It's easy to adjust the allocation of your funds in the pie with the slider.
If you want to create you own pie, follow these steps.
Move over to the chart icon at the bottom and select 'create a pie'.
Browse through pre-defined categories or search for specific stocks to add to you pie.
Once you've added all the ones you want, adjust the capital allocation for each stock till you're happy.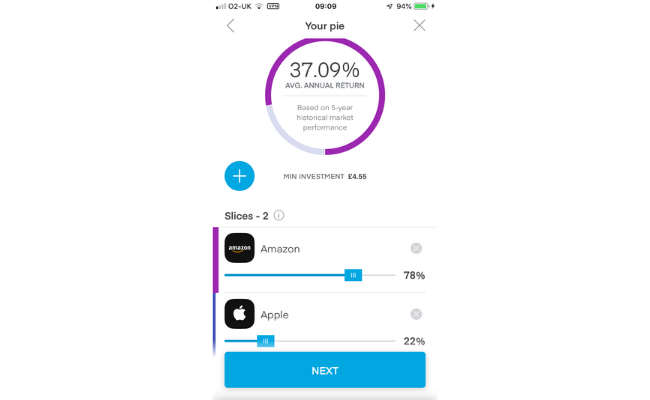 Next, you need to fill out your investment options, i.e whether or not you want to invest manually or automatically.
This is then followed by your investing plan, which includes:
Duration
Reoccurring Deposit Date
Initial Deposit Amount
Your adjustments to each option will also change the predicted earnings graph at the top.
Last up is changing these two personalisation options:
Once you've done that, you will have successfully created a pie with Trading 212.
Users can even share and copy one another's pies if they choose to.
This is a technique known as copy trading, and it's a great technique if you're new to the world of investing, although it's more of a hands-off approach.
The idea behind this is users will spread risk and gain exposure to a diversified market.
To access this area, all you need to do is head over to the 'pie library' section.
Filters are available to help you find the pie options that would be of interest to you.
You also have the option to create a public account which will be visible if you share your own pie or comment on someone else's.

Auto Invest
In conjunction with pies, Trading 212 has incorporated an auto-invest feature that suits those of you who want a 'hands off' approach to investing.
All you need to do is set these two things:
The Amount You Want To Invest
The Frequency Of The Investments
This auto-invest set up can be found in the walkthrough of how to create a pie, located above.
Simply put, fractional shares are a portion of one full share.
Fractional shares allow users who can't necessarily afford full shares to invest in the companies they want.
A prime example is Amazon, one of the biggest companies in the world, which currently trades around $3,000 a share.
Now many people would love to invest in Amazon but can't always afford to buy full shares- this is where fractional shares come in.
To buy a fractional share, just click 'buy' next to a stock and input the amount you want to invest.
Trading 212 will then give you its share value equivalent.

Direct Debits
A fairly simply feature but a useful one at that.
Direct debits prompt consistent investing and only require a minimum deposit of £10 to set up.
This feature cannot currently be used in conjunction with any pies you may have or a particular stock, unfortunately.
However, there have been many requests on Trading 212's forum to implement this so it could be a change we see in the near future.
To set up a direct debit, head over to 'manage funds', click 'deposit schedule' and choose your conditions.

Portfolio Allocation
When you've got some investments, your portfolio allocation is a nice little feature to look at.
Each investment is symbolised as a percentage so you have a better picture as to the distribution of your funds.
It's also useful just to see your portfolio in a more visual format.
Economic Calander
The economic calendar is a welcomed addition to Trading 212's features that details important events that are upcoming.
These are events that could have an impact on particular stocks (earnings dates etc) or the stock market in general.
Metrics can be found at the bottom of each event including:
Actual– The confirmed result after it occurs
Forecast– Predicted outcome
Previous– Prior outcomes of the same event
A description is also provided if a particular event is of interest to you.
To access the calendar move over to the menu and press 'economic calendar'.

Price Alerts
Price alerts can be set for either buying or selling and serve as a helpful tool for all investors.
When the set amount is reached, a notification will be sent to you.
It's also worth mentioning that you can place an unlimited amount of price alerts on any stock of your choosing.
To set up price alerts you just need to choose a stock and click the icon in the top right-hand corner.
Set the price you want.

It'll then trigger a notification if it's reached from that point onwards.
Training Videos
If you are new to investing, it can be quite daunting to say the least.
That's why Trading 212 have put together a collection of training videos for their users.
It won't just be helpful to new investors but for experienced investors too.
They cover a wide range of topics including:
How To Use The App
Technical Analysis
Pairs Trading
Fundamentals
To access these training clips, just move over to videos that are located on the menu.
From here you can sift through clips and watch those that'll be of value to you.
Community Forum
As I alluded to earlier, users of Trading 212 can share ideas and pose requests for new features on their forum.
It's a helpful little community that is worth taking a look at.
Sometimes questions you may have were posed by another user so you'll be able to find a suitable answer fairly quickly.
This will save you from potentially having to wait for support.
To view the forum, just press 'community forum' on the menu and it'll take you to their dedicated page.

Trading 212 Fees
As I touched on earlier, Trading 212 is a commission-free trading platform in terms of having no upfront fees or maintenance costs.
How Does Trading 212 Make Money?
Mainly through their CFD platform which has a 0.5% fee for currency conversions.
And as I stated earlier, on 3/04/2021, an fx conversion fee of 0.15% will take effect for ISAs and GIAs.
Aside from conversion fees, Trading 212 makes money through spreads between the buy and sell prices.
Is Trading 212 Safe?
Trading 212 is authorised and regulated by the financial conduct authority (FDA).
Money that is held by Trading 212 is kept in a segregated account from its own to protect your money in the event of them going bust.
In the unlikely event this does happen, your funds are further protected by the financial services conduct scheme (FSCS), up to £85,000.
When it comes to personal data, regular penetration tests and scans of Trading 212's applications are run.
This ensures that any bugs or loopholes are remedied.
So rest assured your funds are safe.
Trading 212 Reviews
As with every review I like to take other users to experience into account to arrive at a more well-rounded conclusion.
This Trading 212 review is no different.
(Note: These Trading 212 reviews all come from Trustpilot)
Looking at Trading 212's reviews overall, we can see that have a score of average.
Some of you may have noticed the message at the top which says and I quote-
"This profile has seen a significant increase in reviews"
This is as a result of the recent actions taken by Trading 212 that I detailed earlier.
We know this to be true as you can see that the majority of the negative reviews came in January.
In fact, over 3,000 reviews of a 1-star rating were giving to trading 212- making up 1/4 of their overall reviews today.
Typical negative trading 212 reviews include things like:
Not allowed to buy certain stocks
Order manipulators
Server crashes too often
So I think it's fair to say that prior to this event (AMC + Gamestop), Trading 212 had an overall rating of great, at the very least.
Make of that what you will but one thing is for certain, perceptions of the company have been heavily influenced by this event.
Positive Trading 212 reviews include things like:
Always been a good trading platform
Quick and easy
Really great service
FAQS
Is Trading 212 Legit?
Of course, any large company offering a financial service in Uk must adhere to strict rules and guidelines- Trading 212 is no exception.
As I mentioned above, Trading 212 is regulated by the Financial Conduct Authority, whose job it is to keep finance companies 'in line'.
Is Trading 212 Good?
The term good is obviously subjective but when looking at this company overall from its fees to its app, Trading 212 is a good online broker.
Being the largest and fasted growing trading platform in Europe is also a testament to that.
Can You Short On Trading 212?
Yes- that includes every stock on the platform and across the various account types (ISAs, GIAs, CDFs)
When Will Trading 212 Allow New accounts?
I recently contacted a member of the Trading 212 staff and was not given a concrete answer.
I was told it could be a few months but that it was purely a guess.
That to me suggests they have no clear plan in place to start taking on board more customers in the near future                     – make of that what you will.
Unfortunately, this is not possible.
You can however transfer your ISA to another broker, providing you have sold all your existing holdings.
That is to say, they can transfer the cash in your ISA and will do so free of charge.
Can You Make Money On Trading 212
Of course, this is entirely possible!
However, just remember that when dealing with financial markets, there is always a degree of risk involved.
Does Trading 212 Pay Dividends?
You can invest in a wide variety of dividend-paying stocks on Trading 212.
In fact, you can find a whole section dedicated to dividend stocks located by the stock search bar.
Can You Daytrade On Trading 212?
Yes- you can trade as much as you like with as much as you like in any given time period.
It's also worth noting, there are no limitations or fees for this style of trading either.
Conclusion Of This Trading 212 Review
I hope now this Trading 212 review is drawing to a close you have a better idea about the company as a whole.
Enough that you can come to an informed decision as to whether or not it's right for you.
It is worth noting that up until recent events, Trading 212 was rated one of the best investing platforms and still would be hadn't it.
In my opinion, things will blow over and eventually Trading 212 will recover.
Having looked at the situation from a neutral view, I think Trading 212 was placed in a difficult spot due to their execution intermediary.
However, it is ultimately your choice how much weight you place on the situation.
If you enjoyed this Trading 212 review, consider checking out our socials so you can stay up to date with new posts.
Related articles: