Lewis Capaldi Net Worth
Perhaps best known for his explosion in the music industry in recent years, Lewis is one talented individual.
His personality has helped him amass a large social media presence and a long list of subscribers on Youtube (2.46 million at the time of writing).
This combination of chart-topping music and a large fanbase has drawn up much speculation about his net worth.
According to Forbes and Wikipedia at one point in time (both since removed), Lewis Capaldi was worth around $10 million.
Lewis had a great response to these claims.
Lewis Capaldi Net Worth
On his Youtube channel around this time last year, he produced a video entitled 'discovering my net worth- big fat sexy story highlights'.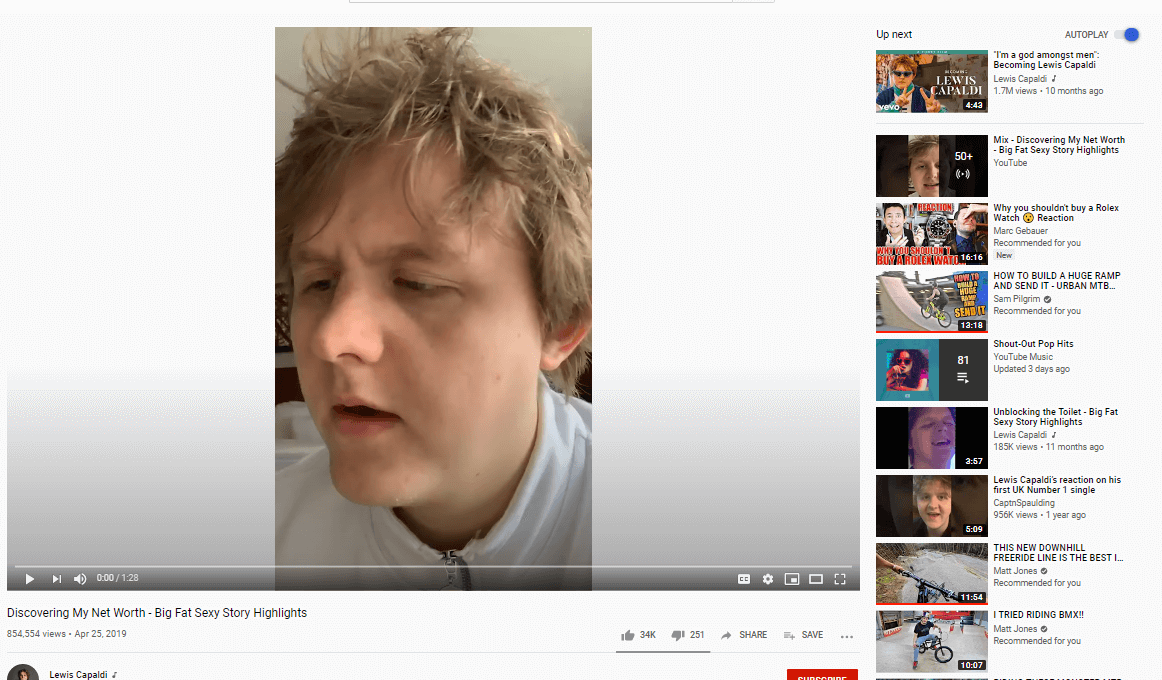 In the video, he starts by saying:
-"I've got a day off in Cincinnati and I thought, for a laugh, I'd Google Lewis Capaldi net worth and see what the internet says right"
He then goes on to say:
-"According to latest reports from Forbes and Wikipedia, Lewi Capaldi net worth is an estimated 10 million dollars".
What comes next is both hilarious and relatable, Lewis states:
-"I've got less than £200 in my bank account right now, so who the fuck has my $10 million".
He supports this claim by saying :
-"I Still live with me mum and fucking dad" and that he has "the same bedroom since I was 12 years old".
Rounding the series of relatable statements off with:
-"I've got fucking New York wallpaper".
Lewis, in perhaps the only serious moment of the video says:
-"I want to know who has put this false information on the internet".
In typical Lewis Capaldi fashion, he finishes it off with a joke by saying:
-"If the taxman sees that I'm fucked".
Since this video dropped a year ago, Lewis released his debut album in May of 2019 which was the best selling album in the UK in the past 5 years.
He's done gigs with Ed Sheeran for his tour, was nominated at the grammy's for song of the year and won no less than 2 brit awards.
Away from the microphone, he's grown his Youtube channel and social media to staggering amounts.
Since this video is fairly old now it's safe to say he's worth more than £200.
Lewis is likely worth in the region of 4 to 5 million pounds.
Despite all this, he still lives at his mum and dads in the same bedroom he grew up in.
General Facts
| Net worth | 4-5 million |
| --- | --- |
| Occupation | Musician |
| Nationality | Scottish |
| Height | 5ft 9 inches |
| Died | N/A |
| Born | 7th October 1996 |
| Age | 23 |
Life
Lewis Capaldi was born on the 7th of October 1996 in Glasgow.
He always had a passion for music and received his qualification when he graduated from New College Lanarkshire, Motherwell.
His first track entitled 'bruises' put him on the map, making him the fastest ever unsigned artist to amass over 25 million plays on the platform Spotify.
After signing with a record label, he performed on some artists tours such as Sam Smith.
His big break came when he dropped his song in 2019 called 'someone you loved' which charted in over 29 countries.
His album which shortly followed 'divinely uninspired to a hellish extent' became the best selling album in the past 5 years.
Since cemented his place in the music industry and he's only ever grown in popularity since.
Conclusion On Lewis Capaldi Net Worth
When Lewis dropped the video of him analysing other people's evaluation of his net worth, it was an instant hit.
It's somewhat comforting knowing that someone who at the time, still enjoyed a reasonable amount of success, had less than £200 in his bank account.
Just going to show that everyone is human and that just because you have doesn't make you wealthy.
Since then, his name has skyrocketed once more and his music combined with sponsorship and his YouTube will all contribute to his net worth.
He's on the right track to becoming a global superstar if he isn't already.
If you enjoyed this post on Lewis Capaldi Net worth, check out other net worth posts such as:
As always be sure to leave a comment!